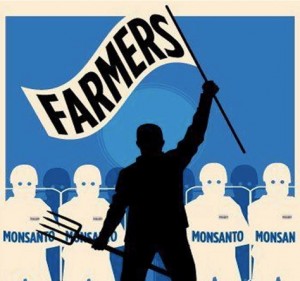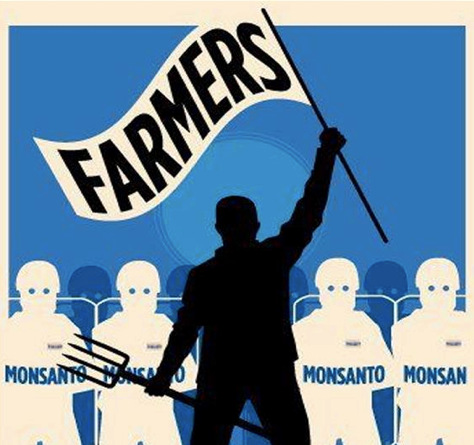 Tipping points and silver linings. They seem perpetually around the corner, as of late.
Consumer awareness and grassroots efforts among the 99% make a powerful impact- even in the face of adversarial forces, and despite our invisibility in mainstream media.
While concerned citizens plan another protest for October 2013, Monsanto stocks have fallen (they are going back up now though).  Last week, Connecticut became the first state to pass a GE labeling law. And in Oregon, when a farmer discovered GE wheat growing in his field, Food & Water Watch urged the USDA to end all field testing of GE plants. Japan and South Korea have halted U.S. wheat imports, and many are boycotting brands that have tried to block GMO-labeling ballot measures.
Monsanto has lost the fight in Europe, and will indeed lose the fight here, if momentum continues to build and activists remain committed.
Although it is important to relish our victories, the "bigger picture" is still staring us in the face. GE salmon (on the verge of approval by the FDA) could potentially breed with wild salmon- or worse, breed with brown trout, and create offspring that out-competes native species.  The damage this could do to our environment is as disturbing as the effects of glyphosate, (the active ingredient in Monsanto's herbicide Roundup).  More and more people are discussing Roundup's connection to autism and chronic disease, and bringing behemoths like Syngenta into the conversation, too.

Because while Monsanto was recently named the "most evil corporation" in the world, in a NaturalNews poll, this isn't just about Monsanto.  This is about a tipping point reflecting the impact of "civilized" lifestyles- both on ourselves, and our surroundings.  Between pipelines, fracking, agribusiness gone awry, climate change, and the recent uptick in mass shootings, we have an overwhelming amount of toxicity "on our plate," as it were.
As progressive activists, and simply as human beings, we must remember:  Monsanto's wrongdoings have not occurred in a vacuum.  They are interconnected with (and representative of) a hierarchical and dysfunctional system.  Eliminating only one weapon in the arsenal cannot- and will not- end the war; we must see the fight over who controls our seeds, and the battle to know what is in our food, as intertwined with other social, environmental, and political injustices.
Abbie Hoffman said it best: "Revolution is not something fixed in ideology, nor is it something fashioned to a particular decade.  It is a perpetual process embedded in the human spirit."
This "perpetual process" is complex and ongoing.  As Bob Plain has pointed out, Connecticut's GMO labeling law will only take effect after four other states pass similar laws. I do hope Rhode Island will be next in demonstrating a commitment to the health of our children (and each other).  But more importantly, I hope activists will not grow tired of protesting Monsanto – for we have only just begun fighting the system it represents.