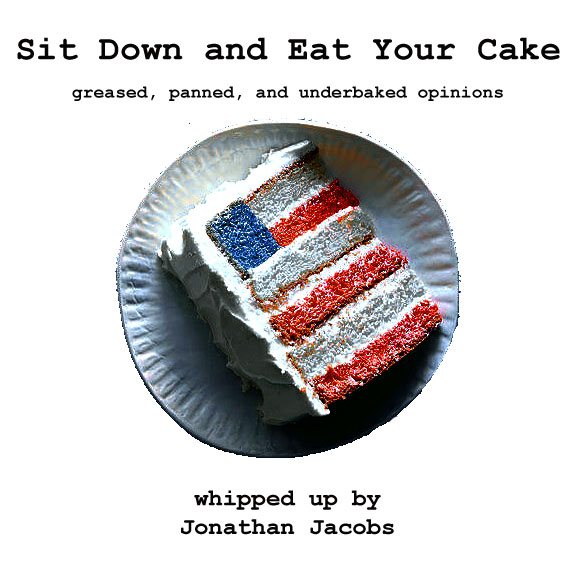 Donald Trump has lassoed the untamed sentiment of white tribalism in the United States and, rather than trying to break its immature spirit of self-interest in order to herd it toward a strategic destination, he instead allows himself to be led by the animal wherever, in its panicked frenzy, it happens to pull him. The response from Democrats to this bellowing bovine is some iteration of,
"This is not who we are."
Since when?
Of course this is who we are. If by "we" Democrats (who are opposed to the racist, tribalist, hyper-nationalist message on which Trump has based his campaign) refer to Americans who place their faith in the version of American history taught from the frame of reference of the "winners" of the American Revolution perpetuated in history classrooms from sea to shining sea, then a factual account of history disputes the premise by telling the story of this being exactly who we are. America has ongoing problems both with civil rights and with admitting the truth. We need only to look honestly at the cornerstones of America's heroes of political patriotism to see the cracks in our national foundation.
George Washington became a slave owner at the age of eleven and, as Commander in Chief of the rebels during the Revolution, ordered a revenge-driven, scorched-earth style massacre of Native Americans in Cherry Hill, New York.
James Madison compromised on composing the second amendment to the Bill of Rights in order to allay the fears of white slave owners scared of an uprising by southern black populations rivaling free, white, Americans in some states.
Francis Scott Key penned the lyrics to the Star Spangled Banner inspired by the survival of a US fort and defeat of a British force, bolstered by black slaves fighting for their freedom, in a war fought, in large part, over merchant trade routes including the middle-passage.
Abraham Lincoln was a Republican, only after flip-flopping from his previous party loyalty as a Whig.
Progressive hero, President Theodore Roosevelt, was an outspoken proponent of eugenics and is quoted referring to Africans as, "ape-like naked savages, who…prey on creatures not much wilder or lower than themselves."
President Franklin Delano Roosevelt, issued the executive order to round up over 110,000 Japanese Americans and relocate them to internment camps.
President John F. Kennedy hid his ongoing battle with Addison's Disease from the public.
But, after all, nobody's perfect. Han Solo shot first. He is still my hero.
What Democrats who express vocal opposition to the very idea of a Trump presidency (more commonly referred to, simply, as Democrats) should be sending as a message is not "This is not who we are." Rather, Democrats need to honestly reflect that the truth is "This is not who we say we are." Americans like to talk about how our nation was conceived in liberty and dedicated to the proposition that all men are created equal. We go so far as to prominently and with great pride display a 305 foot statue of the goddess of freedom, on its own Liberty Island just south of Manhattan, complete with a plaque inside its base describing her as:
"A mighty woman with a torch, whose flames the imprisoned lightning, and her name Mother of Exiles."
That is who we say we are. But, America has not lived up to such lofty ideals and, perhaps, unless we prefer the isolationist, protectionist, borderline fascist nexus of Donald Trump's dystopia, striving to behave more like the Disney version of ourselves about which we boast to other nations at global cocktail parties is the answer.
Take, for example, the recent controversy surrounding NFL quarterback, Colin Kaepernick. Because he has chosen to sit during the National Anthem, he has been cast in the pink-hued spotlight of being unpatriotic. The thinly veiled implication by his critics is that he has been allowed to earn millions of dollars for playing a game. Therefore, he is insulting those who protect that privilege by using his privilege to protest on behalf of those who suffer the violently tragic fate of inequality and oppression.
Allowed? Do we smell the big old steaming pile of bullshit yet?
A grown man of mixed race, who grew up in one of the whitest parts of Wisconsin, just northwest of Milwaukee (I have heard tell of some strife there, recently), and raised by white adoptive parents, has chosen to protest racial inequality in a time when a rich, white, major party presidential nominee is appropriating patriotism to mean white supremacy and xenophobia. And, the response is that Colin Kaepernick is being insensitive. Sit down and eat your cake.
Oh say does that star spangled banner yet wave … and smile … and slowly extend its middle finger. Maybe Colin is not so keen on the stars and bars because he has not forgotten, even though he is a star, too many people who look like him are behind bars.
Democrats' efforts to oppose Donald Trump would do well to stop talking about who America is and who America is not. Instead, Democrats would benefit by inspiring each other to be a part of the American story and recognizing that America's history is what created this steeply raked playing field of which I hear so many complaints. Democrats can call upon each other to help write the next chapter to coherently further the story in the direction of an epic anthology. America's revolutionary exposition set the stage for a drama about certain inalienable rights, life, liberty, and the pursuit of happiness. The plot then took a turn toward utter antithesis and has been reading like the story of Sisyphus for nearly two and a half centuries. In this version, Sisyphus is a woman of color and the stone is made of oil, gold, and loud white men.
If the American story is the story of the bargain to experiment with civil rights, then the constitution is the codification of civil rights. Ask Khizar Khan, he carries a copy of those rights in his pocket. So do I. So should you. So far, the experiment has not been successful. It has made progress. But, trial and error takes time. That is why it is not called trial and success. Trump is not going to win this election. However, that does not mean he will not leave an indelible mark on American history. The chapter Trump submitted is entitled  Give up and save your own white asses. It was actually co-written by Alex Jones and Satan. What is more, Americans already read it in 1956. Except, the earlier version was co-written by Joseph McCarthy and Roy Cohn. Yet, if Democrats can unite, accept the truth of America's past and encourage each other to practice the great American sermon, then Trump does not get to finish his story. Rather, America can begin to write over his repetitive and hollow platitude of "Make America Great Again," with an honest account of the steps and missteps of the great work of making America good. It is not who we have been so far. It is, however, who we could be.
Trump, Lies, and Colin Kapernick

,