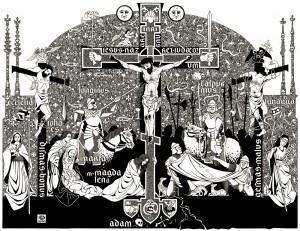 It is our hope that this new feature – the 'Tuesday to Tuesday Arts and Entertainment Calendar' will bring a lighter side to the fare. As we move into the dog days of summer, I'm open to tips and press releases regarding the events you or someone you know may be holding in the next few weeks. Feel free to e-mail data to me at andrew.james.stewart.rhode.island@gmail.com.
MY PICKS
Here is my selection of events that you should definitely consider checking out this week.
8/18
Open Life Drawing at AS220, 6 pm-8:30, $6
It's an odd choice, yes, but why not learn a skill that has some value and can make your soul perk?
8/19
MOVIES ON THE ROCKS: Star Trek Generations at Ballard Park Quarry Meadow, Dusk (8:15-8:30), Free
This was the first film featuring the cast of THE NEXT GENERATION and it was not exactly great. However, watching it projected in a quarry can't be awful.
8/20
Free Speech Thursdays Presents: Providence Poetry Slam at AS220 Main Stage, 8 pm, $4
I love AS220 poets, they never fail to amaze.
8/21
Sometimes You Just Need A Friend: A Suicide Prevention Benefit (NAMI) at Firehouse 13, 8 pm, $10
I'm an advocate of mental healthcare issues by default and would urge people to get involved in this sort of work.
8/22
2015 WBRU Rock Hunt Winner Public Alley With Special Guests Kooked Out & Seven Hats Parade at the Met, 8 pm, $8 Advance/$10 Day Of
With such an award-winning act, what explanation do you need?
8/23
Benefit For Chris Marks: Black Oil Incinerator, The Worried, and Tenafly Vipers at Dusk, 5 pm, $5 Sugg. Donation
I also have a special spot for these types of crowd-funding for helping those in need and think this is worth some time.
8/24
An Evening With Neil Degrasse Tyson at PPAC, 7:30 pm, $55-$80
I love this guy's work and think it is a worthwhile time. Science is an amazing thing and will continue to play an important part in our life as we face the challenges of climate change.
8/25
Boot Leg Soul, John Paul Colasante, Not for Coltrane at AS220 Main Stage, 9:30 pm, $6
I'm closing out the week with this random concert because I believe in the value AS220 has to the community.
8/18
Pianos Become The Teeth, The World Is A Beautiful Place & I am No Longer Afraid To Die, Turnover, Take One Car at The Met, Doors 7 pm/Show 8 pm, $15 Advance/$17 Day Of
Stretch & Strength at AS220 Live Arts Dance Studio, 12-1 pm, $5
Open Life Drawing at AS220, 6 pm-8:30, $6
Intermediate Ballet Class with Danielle Davidson at AS220 Live Arts Dance Studio, 7:15 pm-8:45 pm, $13 per class/$60 for 6 classes
Volcano Kings, Trigger, Wei Zhongle, + New Bliss at Psychic Readings, 9 pm, $6 (Free with RISD/Brown ID)
S. Wolcott, No Time, Wasted, Decent Souls + a surprise appearance! at AS220 Main Stage, 9:30 pm, $6
8/19
MOVIES ON THE ROCKS: Star Trek Generations at Ballard Park Quarry Meadow, Dusk (8:15-8:30), Free
Music at Sunset – Panoramic View at Blithewold Mansion Gardens & Arboretum, 6 pm, Member $7, Non-Member $10
Vinyasa Yoga with Julie Shore at AS220 Live Arts Dance Studio, Noon-1 pm, $5
Open Level Modern Dance at AS220 Live Arts Dance Studio, 6:30-8 pm, $13 per class/$60 for 6 classes
Intro to the Darkroom at AS220 Media Arts, 7 pm, $120
The Vox Hunters, Lindsay Straw, Russ Connors, and The Quahogs at AS220 Main Stage, 8:30, $8
Ad.Ul.T, I Eat Rocks, Trashbirds, Xr-Tabs At Dusk, 9 pm,
8/20
RI NOW, The National Coalition of 100 Black Women –RI Chapter, and the PVD Lady Project Present:ANITA at Cable Car, 6:30, $5-$10 Sugg. Donation
Matuto at The Towers, 7 pm, $15
Project Beta: NY to Newport Public Art Exhibition at Long's Yoga Room, 7 pm, Free
newportFILM Outdoors + Green Screen! RACING EXTINCTION at Belle Mer, 8 pm, Free (Suggested Donation $5)
Intro to Letterpress at AS220 Printshop, 6 pm, $175
Evening Yoga at AS220 Live Arts Dance Studio, 6:15 pm, $13 per class; $60 for 6 classes
Free Speech Thursdays Presents: Providence Poetry Slam at AS220 Main Stage, 8 pm, $4
Movies on the Block: BLOOD SIMPLE at Grants Block, 7:30 pm, Free
2015 Burnside Music Series! Up Next: Vio/Mire + DJ Analog Underground, Greater Kennedy Plaza, Free
Ars Necronomica & Rhode Island Eerie Openings at Providence Art Club, 6:30 pm, Free
NecronomiCon Providence at a variety of locations, Multi-Day, $75 (http://necronomicon-providence.com/welcome/)
Lovecraft's 125th Birthday – Outdoor concert and film screening at 35 Weybosset St, 7 pm, Free
8/21
LGBT Elders Cafe at Church of the Transfiguration, Noon, $3 60+, $6 Under 60 (RSVP with Pauline at 401-351-6700)
Family Fun Friday – Karen K and the Jitterbugs at Blithewold Mansion Gardens & Arboretum, Noon, Included with admission. Free for members
Jodi Jolt & The Volt, GrandEvolution, Nymphidels, Jamie Craighead, Ben Tirrell at AS220 Main Stage, 9 pm, $6
Sometimes You Just Need A Friend: A Suicide Prevention Benefit (NAMI) at Firehouse 13, 8 pm, $10
8/22
The Looff: East Providence Art Festival at 700 Bullocks Point Ave, 10 am-8 pm, Free
Field of Artisans at Marina Park, 11 am-4 pm, Free
Introduction to the Laser Cutter at AS220 Labs, 10 am, $80
Introduction to the CNC Router at AS220 Labs, 2 pm, $100
Traditional Irish Music Session at AS220 Bar & FOO(D), 4 pm, Free
2015 WBRU Rock Hunt Winner Public Alley With Special Guests Kooked Out & Seven Hats Parade at the Met, 8 pm, $8 Advance/$10 Day Of
The Sweet Release/Neutral Nation/The Z-Boys at The Parlour, 9 pm, $5
8/23
Core Workout with Daniel Shea at AS220 Live Arts Dance Studio, 9 am, $5
Beginner Ballet at AS220 Live Arts Dance Studio, 10:30, $13 per class/$60 for 6 classes
Intermediate Ballet w/ Stephanie Albanese at 95 Empire Dance Studio, Noon, $13 per class/$60 for 6 classes
Benefit For Chris Marks: Black Oil Incinerator, The Worried, and Tenafly Vipers at Dusk, 5 pm, $5 Sugg. Donation
Mis(S)Invader, Nervous System, Polluter, and Tomb And Thirst at Firehouse 13, 8 pm, $6
8/24
Intermediate/Advanced Modern Dance at AS220 Live Arts Dance Studio, 6:30 pm, $13 per class/$60 for 6 classes
Over the Top, a reading of a performed memorial by David Higgins and Vanessa Gilbert at AS220's Blackbox, 7 pm, Free but donations accepted
An Evening With Neil Degrasse Tyson at PPAC, 7:30 pm, $55-$80
8/25
Stretch & Strength at AS220 Live Arts Dance Studio, 12-1 pm, $5
Open Life Drawing at AS220, 6 pm-8:30, $6
Intermediate Ballet Class with Danielle Davidson at AS220 Live Arts Dance Studio, 7:15 pm-8:45 pm, $13 per class/$60 for 6 classes
Single Lash, Future Museums, Pixels, + Twenty Four Hours at Psychic Readings, 9 pm, $5
Boot Leg Soul, John Paul Colasante, Not for Coltrane at AS220 Main Stage, 9:30 pm, $6