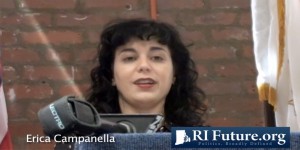 Representative David Cicilline held a press conference this weekend calling out a "Republican-led Congress" that skipped town for the holidays leaving 1.3 million Americans without desperately needed unemployment insurance.
He also asked three Rhode Islanders to tell their stories.
Erica Campanella hasn't had a problem finding a job, she says, "I have a problem keeping a job… I've been laid off five times since 2008."
One company thought Campanella's freelance rate was too high, so they hired her into a full time position at a lower hourly rate. Two months later, when the job was done, she was laid off. I asked her if she thought she had been tricked by the company into doing the work on the cheap. She told me that she didn't think that was the case, but that the company simply needed to make the cut because of the bad economy.
As for moving back in with family, she is grateful that she was able to, but she can't imagine what those without family must be going through.
UI funding crisis: 'I had to give up an apartment I loved to move back with family...

,