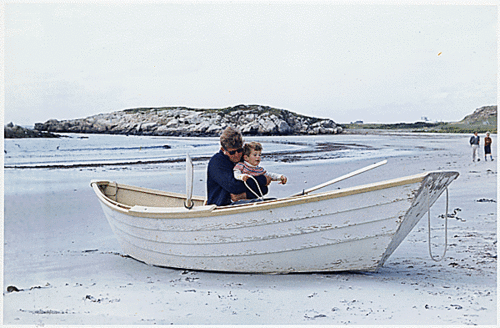 Why does a politician continually raise his sights and leave a job that represented complete satisfaction at one time for a higher position?

Part of the reason lies in the normal desire to move ahead, perhaps the more important part lies in the recognition that a greater opportunity to determine the direction in which the nation and world will go lies in higher office. I've come to understand that the presidency is the ultimate source of action.
-John F. Kennedy
There are no small parts, only small actors.
-Proverb
I've seen it suggested recently that Angel Taveras shouldn't leave as Providence mayor to run for governor. The common refrain is some variant on "the job isn't finished yet." It's a similar criticism to that lobbed at U.S. Rep. David Cicilline; that he "cut and ran" from Providence just as the city entered a budget crisis (I believe that Cicilline was the last mayor who wasn't term-limited and could've served indefinitely).
It's a question that I've scoffed at. After all, why would eight years matter more than four years? If you believe someone shouldn't leave office until every problem a government faces is solved, why not go the old Roman method: appoint a dictator until the crisis is over. See how many dictators for life we end up with.
But it wasn't until I was watching Part 2 of PBS' documentary on JFK that an answer appeared. About 13 minutes in, the JFK quote above was played from a dictaphone. And gave me reason to reflect on that question. Why seek a higher office when you're already good at what you do?
Part of the criticism leveled at the Mayor of Providence is that the citizens of Providence have been blessed with mayors they've been pretty happy with. Each time in recent years when the mayor leaves, they've been faced with a plethora of choices that are all sort of unknown or not satisfactory to the diverse interests that reside in the state's capital city. If the polls can be believed, Angel Taveras is perhaps the most popular politician in the state. It's little wonder that Providence's citizens would want such a figure to remain aboard.
But why should he? Even if he remained for another four years, by the time he left, Providence would still have problems. Any community, no matter how well managed, is going to have issues crop up. We are, after all, imperfect human beings. The terms of office aren't organized around issues, they're organized around arbitrary numbers of years. Every politician can't all be President James Polk, who came into office with a few goals and refused to run for a second term when he accomplished all of them in his first four years.
So with the opening in the governor's office, it's fine for a politician like Taveras to seek a greater source of action. Why does a legislator seek to be in leadership? Why do advocates seek to take political office in the first place. If you're driven by a mission, whether that be a cause or your own ego (or more likely, a heady mixture of both), why not?
But we as voters might think about taking into account the Peter Principle: "people rise to the level of their incompetence." Which is why I've included the second quote, a famous proverb, above. It's a rare politician who decides to look downward. Off the top of my head, I can think only of John Quincy Adams who took up a seat in the U.S. House of Representatives after his presidency, and Jerry Brown of California who served at Mayor of Oakland between his two times as Governor of California.
We might pause to ask ourselves why this is. Smaller roles may be more mundane, and less imbued with the power to act, but they're important nonetheless. We forget how much power a local government has to shape our outlook, our options, and our lives.