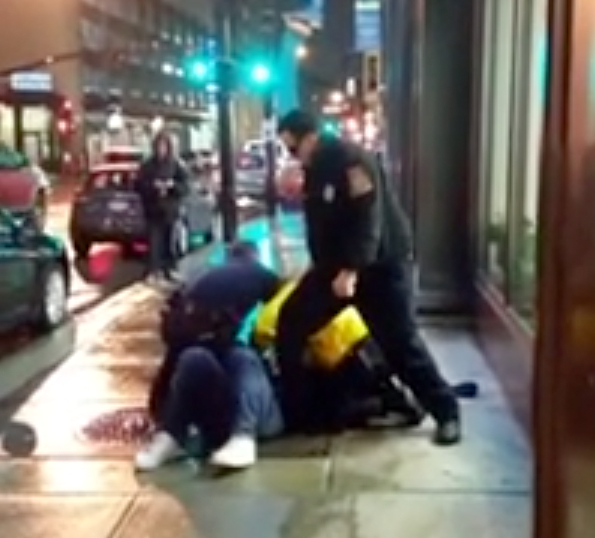 In response to the story on RI Future, in which a video seemed to show a University of Rhode Island police officer or private security guard kick a suspect while he was being apprehended, URI has released the following statement:
URI police apprehended a man suspected of stealing a bike from in front of the URI Providence Campus building at 6:43 p.m. Tuesday, Dec. 1. After receiving a report of a bicycle being stolen, URI police and security officers responded immediately.

The suspect attempted to flee, but URI police and security officers, and a private security officer pursued the suspect and a struggle ensued.

The suspect sustained minor injuries during the arrest and Providence Rescue was called to the scene. The suspect refused medical treatment and signed a waiver. The URI police officer and the private security officer also received minor injuries as a result of the struggle.

The suspect, Alan Christopher Corey, 44, was then transported to the URI Police Department at the Kingston Campus where URI emergency medical technicians examined him. He was charged with misdemeanor larceny in connection with the theft of a bicycle, as well as resisting arrest and simple assault on a private security officer.

After Corey admitted that he had used a false name, a records check showed that he was wanted on a warrant from 6th District Court. Given the active warrant, Corey was then transported to the Adult Correctional Institutions.

As is standard practice in cases such as this, URI Police are reviewing the use of force as well as the amateur cell phone video that RIFuture obtained and the surveillance video that was available at the crime scene. The brief cell phone video shows only the latter portion of the struggle with Corey, which includes a URI security officer kicking a box cutter knife out of the suspect's reach to clear the scene of any weapon.

Corey later admitted to stealing the bike, which has not been recovered, and apologized to the security officers for his actions that evening.

The URI police will complete their report next week.
URI statement on downtown arrest video

,