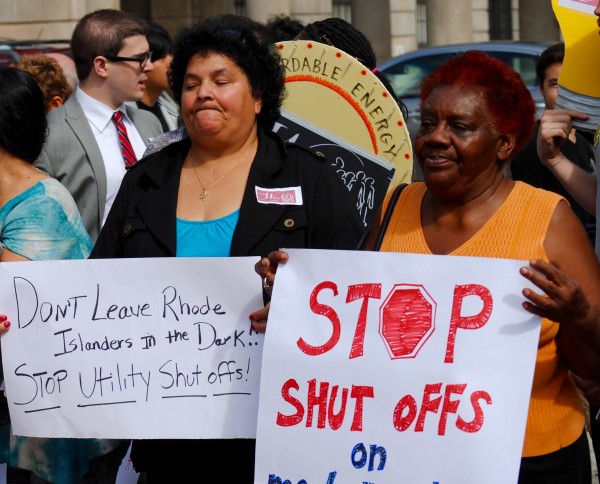 A heartbreaking video, The Lifeline Campaign, about National Grid's seeming disregard for the law, has just been released on Vimeo. National Grid is being sued by the RI Center for Justice because they routinely shut off the electricity of seriously ill and disabled customers with past due bills, despite the presence of a doctor's note that says the patient's life will be imperiled if they lose service. This is against Rhode Island law.
Worse, the RI Public Utilities Commission, charged with protecting consumers, routinely rubber stamps National Grid's requests to terminate service and does not review each case on the merits.
There is one particularly chilling sequence in which Ramon, who has a machine that allows him to breathe, tells us about the reaction of the National Grid employee when he was confronted with the fact that Ramon might die without electricity.
"It's my job, and National Grid ordered me to shut it off," said the National Grid employee, "so, it's my job to do it. I hate to do it. See, I wouldn't like to do it because I know your life depends on it, but it's my job and I have to do it."
You don't have to read Hannah Arendt to understand what's happening here.
You can watch The Lifeline Project in its entirety, below:
I've covered this story here:
The Lifeline Campaign is a documentary film produced by Brown University undergraduates Arohi Kapoor, Drew Williams, Isabelle DeBre, and Victoria Kidd, with the support and involvement of the George Wiley Center. The George Wiley Center is a grassroots community organization that fights for utility justice and other forms of social and economic justice through community organizing to win concrete changes in public policy. Learn more at: georgewileycenter.org.
The Rhode Island Center for Justice is a non-profit public interest law office that collaborates with the George Wiley Center to operate the Lifeline Project, a program designed to enforce and protect the rights of seriously ill and disabled low-income utility consumers in the State of Rhode Island. Learn more about the work of the Rhode Island Center for Justice at: centerforjustice.org.