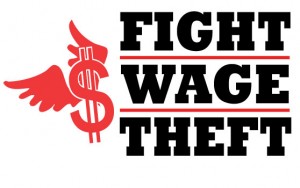 As a former chef and manager who spent 15 years working in kitchens, it was of no surprise to me that the restaurant and hotel industry topped every category in the recently released study by Fuerza Laboral on wage theft in Rhode Island titled, "Shortchanged: A study of unpaid wages in Rhode  Island." (PDF)
According to the report, the so-called hospitality industry is anything but hospitable to it's workers when it comes to getting paid on time and in full.
The restaurant/hotel biz in R.I. had the highest number of complaints, the highest number of employers with multiple years of complaints, and the highest number of violations of the Fair Labor Standards Act (FLSA). In FLSA complaints that were resolved, restaurant and hotels paid 864 Rhode Islanders a total of $1,042,782 in back pay, $881,460 of which was for overtime violations.
In the years that I spent preparing and serving meals for people who could afford to buy them, I saw a range of ill-treatment of employees and borderline sociopathic behavior by customers and employers alike. It's bad enough that employees in this industry have to deal with a daily barrage of condescension and outrageous complaints or demands  from customers, but many employers in the industry display outright contempt and disrespect for their employees.
At one Downcity eatery where I worked, my paycheck included an illegal deduction of $2 per week. When I asked what the deduction was for, I was told that it was for lost silverware and broken dishes. I said that I hadn't lost any silverware or broken a dish, and his response was the typical, "If you don't like it, you can quit." Which I did, on the spot. In those days, it was easy enough to go right down the street and get another job in a restaurant, so I never filed a complaint.
Now, $2 per week may not seem like much, but considering that the restaurant had 2 locations in Providence at the time, and employed roughly 50 people in total, that adds up to an extra $5,200 in the owners pocket at the end of the year. The restaurant has since expanded. That was ten years ago, and I don't know if the illegal deductions are still happening, but if they are – now at four locations and with possibly 100 or more workers – that is a significant chunk of change in that owner's pocket at the expense of cooks and waitstaff making as little as $2.89 an hour.
Waitstaff rates = built-in theft
Rhode Island's wait staff wage of $2.89 per hour has an built in theft device. Bartenders and waitstaff are usually paid lower rates than the state's minimum wage on the understanding that the rest would be made up in tips. Depending on the restaurant and shift, the tips may make up the difference, but waitstaff members are often required to come in an hour or two early to set up and stay an hour or two late to clean up. The effect is basically a watering down of that tip-amended hourly wage that may or may not meet the state's minimum wage requirements.
So, the next time you go out to eat, take a look around. Chances are someone you see working at that restaurant is having some, or all, of their pay stolen by the employer.
Please feel free to leave your experience with wage theft in the comments section.