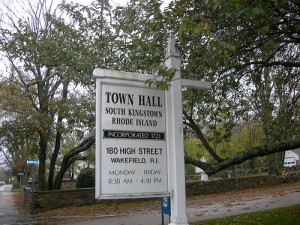 "I couldn't ask for a better budget," said South Kingstown Town Council President Ella Whaley. "We are blessed to live here in South Kingstown."
My question to Ms. Whaley, a former educator, would be: Do you think the three special ed teachers just terminated by the school committee feel blessed? How about the students, and their families, who will be losing those teachers; are they blessed?
To say South Kingstown has become the poster child for municipal office-holders gone wild would be an understatement. Both the town council and school committee have shown very little regard for taxpayers or town employees.
At a January 23rd council meeting, resident and taxpayer Deb Bergner, questioned the conflicts of interest present for council and chamber of commerce members, O'Neill and Hagan-McEntee when it came to voting on a tax abatement for the chamber's headquarters. To that, Councilman James O'Neill launched into a tirade telling Ms. Bergner that was the most stupid, foolish question he'd ever heard.
Why is that Mr. O'Neill? Beacuse she challenged you? It's safe to say, most reasonable people would see how voting a tax abatement to an organization you're a member of might be seen as a conflict. Because of Mr. O'Neill's behavior during this exchange the council felt the need to change its rules of decorum. Ms. Bergner is still waiting for an apology for being called stupid and foolish. Mr. O'Neill clearly thinks he's entitled to the seat he holds by the contempt he shows to the constituents that come before him.
Now, onto the school committee. In late February, they were readying layoff notices for teachers just like many school systems do to meet the March 1 deadline for notification. However, on advice of counsel and with no apparent input from the town's human resources professionals, the school committee acted to terminate three very highly-regarded special ed teachers.
At what was supposed to be a preliminary hearing to determine their status, called with little notice on a Sunday morning, the school committee informed the three teachers they had five minutes to decide if they'd rather resign or be terminated. Five minutes to decide if they'd rather face the stain on their record of being terminated. Five minutes to decide how it would impact their lives and the lives of their families. Five minutes to think how it would impact the quality of their students' lives. Oh yes, and the caveat being if they resigned they'd get a glowing recommendation.
The truly egregious part of the whole fiasco is that none of the teachers had ever been evaluated. Maybe if they had and been counseled, something could have been done to make sure termination was unnecessary. However, the sad truth is these terminations were a foregone conclusion since each of these teachers was approaching tenure and that was certainly part of the thinking process leading to this decision.
An online petition has been started to support the teachers at http://www.change.org/petitions/south-kingstown-school-committee-stop-the-bullying
Which has led the school committee to offer up a very lawyerly response at http://www.skschools.net/School_Committee/Documents?plugin=RWD&Templates=RWD&object=School_Committee_Documents&infobar=no&fixed=1&ConfPosition=0
In their response the school committee makes note they use their counsel advises on legal matters. That begs the question of just how much they spend on their legal counsel?  What really rang hollow at the budget hearings this week though, is the fact that while they discarded three perfectly good teachers, the superintendent is now asking for two more administrators. So when the response to the online petition states the committee has nothing but the best interests of the students in mind, they feel its imperative to hire people to evaluate the people doing the teaching rather than providing continuity and familiarity for special ed students that need it most.
South Kingstown: Where Politics Trumps Priorities

,