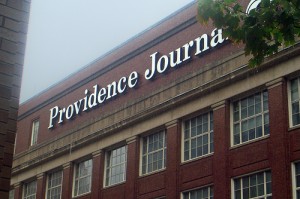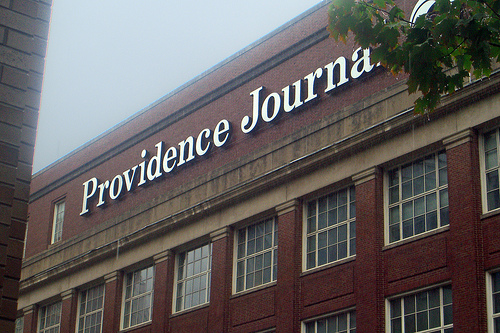 I was a just journalism student at URI when the Providence Journal was sold to Belo in 1997. Linda Levin was the best professor we had, and her schtick was regaling us with stories of her and her husband Len Levin's glory days in the ProJo newsroom. She was outwardly devastated. I was made to understand this didn't bode well for my chances of taking over Bill Reynold's For What It's Worth Column after graduation.
Before I even had a diploma, I had already been through a newspaper sale myself. The previous summer I interned for the Block Island Times when it was purchased by Jamestown Press owner Jeff McDonough. And ever since then, I've spent what seems like the bulk of my career being either bought or sold.
I left the Ashland Daily Tidings when Rupert Murdoch bought our parent company, and ended up at the Brattleboro Reformer, which MediaNews Group had recently acquired. My new beat required the labor two employees performed under the previous owner. I left that job to launch a community news site in East Greenwich, which was soon sold to Patch. So I took a job at WPRO, and was downsized when the talk radio station's parent company was swallowed by Citadel Broadcasting. In seven years, I've been either one step ahead of or behind no fewer than four media mergers and/or acquisitions.
So pardon me if after 17 years of learning that they almost always eventually lead to downsizing, if I'm not as "excited" for the second sale of the Providence Journal as is Michael Reed. He's the president of New Media Investment Group, the ProJo's soon-to-be owner. He said in a press release: "We are very excited to welcome the paper, its employees and the community into the growing New Media family."
He should be excited. He just paid $46 million for what the Metcalf family begrudgingly sold for $1.5 billion in 1997. Belo also got some TV stations when they bought in '97 (which it has long ago spun off) and will hold on to the Fountain Street real estate in this sale. Some think New Media paid a premium (Rhode Islanders know it got a great deal!).
And how about us Rhode Islanders, and our trusted Providence Journal reporters? We know Reed is excited to have us in his life, but should we be equally excited to have him in ours?
Probably not.
New Media Investment Group is the internet-y sounding alias for GateHouse, and GateHouse is known as one of the worst employers in the newspaper industry. It owns close to 500 newspapers around the country, and I've never, ever heard of a newspaper improving when GateHouse takes over. Though I believe they often become more profitable. Google GateHouse and it's too easy to find tales of rampant layoffs and Dickensian cost cutting – journalists have been known to lose both their newsroom coffee, and also their copy desk!
But the new boss has something very unique in the Providence Journal. Something the Metcalf family was able to tap into much more effectively than Belo ever did. The new boss doesn't own another metro market-leading news platform, and Rhode Island, with its city-state like community, is unlike any other state-wide media market. It's very reasonable to assume Michael Reed would want develop a unique approach to this unique asset.
Maybe the new boss will look to John Henry and the Boston Globe for inspiration, and invest in The Providence Journal rather than divest?