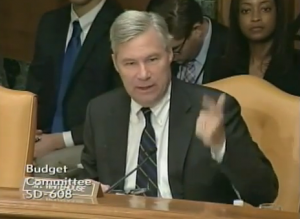 How do you know Democrats are slowly starting to win the hearts and minds of Americans when it comes to addressing climate change?
When every witness at a Congressional committee hearing – even those invited by Republicans – can agree that climate change is real and caused carbon emissions.
To kick off the hearing on the costs of climate change, Rhode Island Senator Sheldon Whitehouse asked everyone: "It appears to me that everybody on this panel agrees that climate change is real, it's really happening, and it relates to carbon emissions. Is that true across the board of all five of you?"
They all said yes. Here's the video:
It was a Budget Committee hearing titled: "The Costs of Inaction: The Economic and Budgetary Consequences of Climate Change" and you can see a list of the witnesses here.