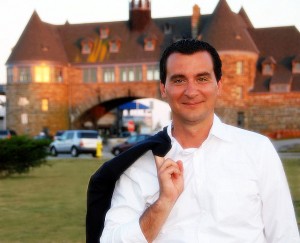 The last time there was a Democrat in the governor's office and a party chairperson vacancy, it was the Bruce Sundlun – not the Speaker of the House – who recommended a replacement to the state committee.
"Sundlun took the lead and went to great lengths to cultivate consensus, which he did rather quickly," said David Preston, a Sundlun confidant who worked for the former governor and was executive director of the Democratic Party at the time. It was 1991 and Mark Weiner was appointed as the new chairman of the state Democratic Party.
This time, though, Governor Linc Chafee, who won office as an independent and then became a Democrat, said he would cede the responsibility to more senior members of the party.
"Despite my status as a Democratic Governor," Chafee said in a prepared statement, "as a new Party member, I will defer these decisions to more veteran members."
Jonathan Boucher, current executive director for the party, said the chair is elected by the majority vote of the state committee. There are 243 members.  "A candidate for chair has to get nominated and obtain a majority vote of those present," he said. "At this time Grace Diaz will be the acting chair and will continue in that role until a meeting is called to elect a new chair, or the current term expires."The Speaker of the House is said to have much influence over who becomes chairperson of the party.
The Young Democrats of Rhode Island, who can be said to represent the more progressive wing of the the Rhode Island Democratic caucus, said the next chairperson should reflect "both the best interests of Rhode Island and the principles of the national Democratic Party."
"That includes," the group said in an email, "firm commitments to reproductive justice, gun safety reforms, repealing voter ID, and making government more accessible and transparent."