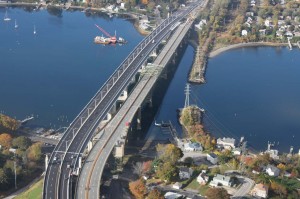 It's not often that I disagree with Bob Plain, but I think he underestimates the importance of the battle over the Sakonnet River Bridge tolls.
There are three important things going on here:
First, as progressives, we should oppose tolls as a matter of principle.  Because everybody pays the same rate no matter how much you make, tolls are one of the most regressive taxes out there, hitting those who can least afford to pay the hardest.  They also waste a ton of time.  By sending people way out of their way to avoid them, tolls waste a lot of gas, which is bad for the environment.  Unlike income taxes, they do do serious damage to the economy.  Oh, and they're quite expensive to collect.  Ending the income tax cuts for the rich makes more sense.  Even raising regressive property and sales taxes makes more sense.
Secondly, this is yet another example of House leadership breaking promises.  After having put in a compromise on the tolls to secure the East Bay representatives' votes on the budget–votes necessary for the budget's passage–Fox changed course and added the 10-cent toll.  Although just the latest example of House leadership going back on its word, this time it put real fury on the floor.  That night, the ranks of the anti-Fox caucus swelled considerably.
If leadership keeps this up, progressives should have the votes to block another right-wing budget come this time next year.
Finally, and most importantly, this battle is about how we plan on paying for the delayed maintenance on our infrastructure.  Traditionally, infrastructure is funded through bonds, but for reasons that remain unclear to me, we have decided not to fully fund maintenance when we do our infrastructure bonds.  As a result, we have to spend quite a bit more money replacing bridges.  The obvious thing to do would be to do a simple deferred maintenance bond and start a practice of pre-funding maintenance in the original infrastructure bond issues.  Because the Fed has given us a one-time opportunity to borrow at very low interest rates–and because deferring maintenance usually winds up costing more later–we are wasting tons of taxpayer money by not floating a huge infrastructure maintenance bond before interest rates rise.  That's before you even get into all the jobs an infrastructure bond would create.  (I know Keynesianism is a hard sell on Smith Hill, but that doesn't make it any less correct.)
But that's not what the General Assembly is planning on doing.  In her floor speech on the tolls, conservative Senate President Paiva-Weed did not mince her words about where the right-wing leadership is heading on this issue.  "The fact is, we need to start looking at user fees," she declared.  Translation:  Instead of taking advantage of a free lunch on maintenance bonds, we will be funding repairs on the backs of those who can least afford to pay.
So no, the toll battle is not a bunch of meaningless whining about ten cents.  It is about progressive taxation, it is about a breach of trust, and it is about Keynes.
Why the Sakonnet River Bridge tolls matter

,