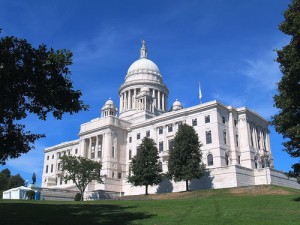 On the last day of the 2014 legislative session, the General Assembly approved legislation that could place at-risk youth in prison for more than a decade–for a crime as simple as graffiti. The legislation (H-7457 as amended and S-2639 as amended) allows up to 10 additional years on the sentence of anyone convicted of any felony "knowingly committed for the benefit, at the direction of, or in association with any criminal street gang or criminal street gang member."
More than 20 community groups, including the Institute for the Study and Practice of Nonviolence, Providence Youth Student Movement, and the Rhode Island Civil Rights Roundtable, have come together to urge Governor Chafee to veto this dangerous legislation.
In a letter to Governor Chafee, the groups note that this legislation offers an overly broad definition of "criminal street gangs," does not differentiate between a "gang" that engages in occasional random acts of vandalism and one that has been involved in murders and other serious felonies, and will likely target at-risk youth who have made a mistake.
Here are excerpts from the groups' letter to Governor Chafee calling for a veto: 
"Young people may often be coerced into committing crimes for a gang, facing threats of punishment and harm if they fail to do so. Under this bill, they would bear the brunt of the enhanced sentencing provisions. The bill could even have the unintended effect of encouraging gang leaders to make more use of teens in this position, and help insulate the leaders themselves from the enhanced sentences envisioned by this legislation."
"Instead of assisting youth who are at risk of becoming involved with dangerous individuals, this legislation puts the state in the position of locking up these at-risk youth for lengthy periods of time with exactly the kind of individuals we should be trying to help them avoid."
"It is the minority community that suffers the most from gang violence. But it is also our community that suffers the most from overly harsh sentencing laws that, either in purpose or effect, target inner city youth and adults. Rather than imposing more and harsher punishment on offenders, including teenagers, the state should be much more focused on prevention, education and mediation activities."
There's still time for you to join the effort to stop this legislation. Call or email Governor Chafee and tell him you want this legislation vetoed.