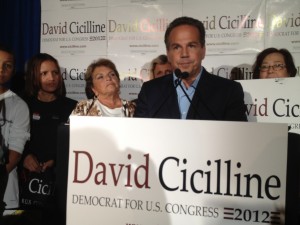 In a pointed and detailed statement, Congressman David Cicilline called out the United States Supreme Court for its Hobby Lobby decision made public today saying, "women, not their bosses, should be in charge of their own personal health care choices."
The controversial SCOTUS decision sent ripples through progressive Rhode Island today. Senator Sheldon Whitehouse also released a statement critical of the high court.
Here is Cicilline's full statement:
Women, not their bosses, should be in charge of their own personal health care choices. While much work remains, we have made tremendous progress in affording women full equality over many years and this decision rolls back that progress by limiting women's access to contraceptive health care services.

The Affordable Care Act is designed to ensure women have access to quality, affordable health care, including contraception and family planning — services that are critical to a woman's health care needs. In fact, an overwhelming majority of women use birth control or contraceptives at some point in their lives and the idea that they should be denied access to these basic health care services because their boss finds it religiously objectionable is ridiculous. While today's ruling will not undo all the benefits under the Affordable Care Act that allow millions of women to access birth control, it wrongly dictates that a CEO's religious beliefs outweigh a woman's right to access affordable contraception. This unfair discrimination contradicts the values of a majority of Americans and has no place in the 21st century. Importantly, today's decision also sets a bad precedent encouraging other for-profit corporations to deny health care coverage to their employees based on their owners' religious beliefs.

I am deeply disappointed with the Supreme Court's ruling and will continue working to stop attacks on women's access to complete health care services and to advance women's basic rights. This fight is not over.