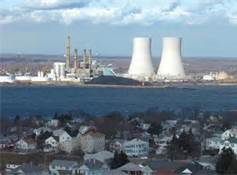 The folks over at 350.org are on tour this summer, organizing protests at some of the worst power plants across the nation – and our very own Brayton Point has made the grade!
Here are the details:
On July 28th, people from all over New England will come together for a mass mobilization at the Brayton Point power plant. Brayton Point is the largest coal-fired power plant from Massachusetts to Maine. We will call for Massachusetts Governor Deval Patrick to close the plant and ask him to ensure a just transition for workers and host communities from the West Virginian mines to Somerset. The mobilization will include an optional non-violent civil disobedience component.
What: Mobilization to close down Brayton Point
Where: Somerset, Massachusetts
When: Sunday July 28th (with training on the 27th)
Why: To shut down the largest fossil fuel plant in New England and ensure a just transition for workers and communities
 Organized by 350 Massachusetts Action and Better Future Action
One of 350.org's Summer Heat Actions
Please note: They are planning civil disobedience. For those who would like to participate, you must attend a planning and training workshop the day before. Details HERE.
Brayton Point is a pollution factory. Chugging away in Somerset, Massachusetts, Brayton Point is perched along the shoulder of Mount Hope Bay, with over 77,000 people living within a few miles. 1,000,000,000 gallons of water are pumped from Mount Hope Bay into the power plant's cooling towers.
Using about 40,000 tons of coal every three days, Brayton Point provides 20% of all the electricity for Massachusetts in just about the dirtiest way imaginable. 80% of this coal is shipped from Venezuela and Colombia, so the damage starts long before the carbon is burned in Brayton's kilns. Much of the coal is from the worlds largest open-pit mine, El Cerrejon in Colombia, and from La Loma mine, owned by Drummond Energy, a company accused in the deaths of dozens of labor rights activists. According to diplomatic cables released to the public by Wikileaks, Drummnd was a cause of great concern for U.S. regulators due their employment of paramilitary organiztion United Self Defense Forces of Colombia to suppress workers.
According to SourceWatch, in 2006 it was responsible for 6.8 million tons of CO2 emissions. As if that's not bad enough, it released massive amounts of other greenhouse gasses, and sent 148 pounds of poisonous mercury into our environment.
Owned by Dominion Energy, it is under contract to be sold to a private equity firm.