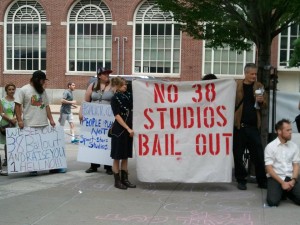 As legislative leaders draw criticism for only inviting one perspective to speak today about defaulting on the 38 Studios loan, Occupy Providence, an activist collective, and the Stephen Hopkins Center, a libertarian group, have joined forces to sponsor an event that offers a pretty good diversity of opinion.
WJAR's Bill Rappleye will moderate a panel debate at the State House today at 2:30. Panelists include Gary Sasse, former executive director of the RIPEC and senior adviser to Governor Don Carcieri, RI Future contributor Tom Sgouros, Bob Cusack a former public finance investment banker, John Chung, a Roger Williams law school professor and Elaine Heebner, for a citizen's perspective.
Both Occupy Providence and the Hopkins Center oppose repaying the loan. And this isn't the only example of atypical political allies on this issue: both the Rhode Island Republican Party and the Rhode Island Progressive Democrats don't want to repay the loan either.
"The key leaders in RI government are showing poor priorities if they bail out Wall Street and keep historically low tax rates for the rich, when we could be stabilizing transit funding and making education more affordable," said Randall Rose, a longtime leader of the local Occupy movement.
Brian Bishop of the Hopkins Center added that his organization "would prefer lower taxes for everybody, including the rich. But our common ground with Occupy Providence is an objection to cutting the voters out of their constitutional role in approving debt. This sham technique in which the state does not directly borrow the money, but is perceived to be on the hook because of risk to its credit rating and fiscal reputation, must end. Legislators should stand up for taxpayers over Wall Street on this issue."
But, they still thought it was important to have a robust debate on the issue. "We have specifically invited state leaders who support the bailout to defend their position," said the press release. "This will fill a need for fair, thoughtful debate on the subject."
I think this issue is shining a light on a new kind of political division in Rhode Island.