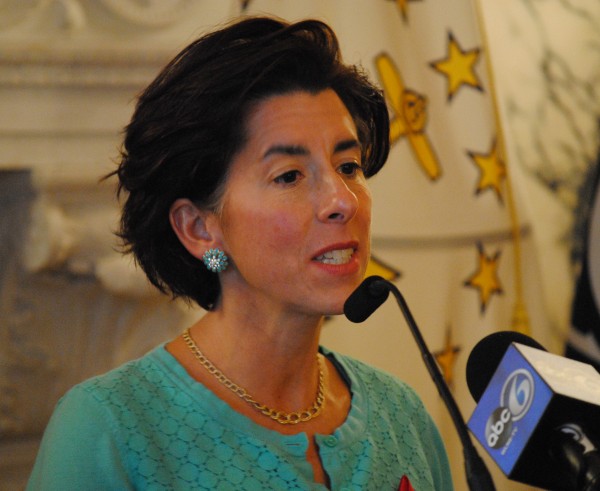 In light of the letter to the Energy Facility Siting Board (EFSB) from Representative Cale Keable and State Senator Paul Fogarty expressing "unequivocal opposition" to the new "1000-megawatt, fracked gas power plant in the heart of Burrillville's idyllic village of Pascoag" I reached out to the Invenergy's earliest booster, Governor Gina Raimondo for comment. Raimondo spokesperson Marie Aberger responded (italics mine):
The Governor and her team are closely monitoring the plans and listening to community feedback and concerns. We will be learning more about the health and environmental impacts of the plans as the Energy Facility Siting Board continues its review of the proposal, and reviewing those impacts carefully.

"At the same time, the Governor believes we need to take action to address our energy costs in the present for all Rhode Island families and businesses.  A large part of the Governor's strategy is to adopt new solutions that will lead us to a cleaner, more reliable energy system in the future, including offshore wind and solar power."
It's difficult to tell if this statement shows a softening of the Governor's position on the plant, which she called, "something that's good for Rhode Island" when she announced the project in July of last year. Since she announced the plant Raimondo has been petitioned by environmental activists to change her position and has been confronted by sign carrying protesters at many public events.
But recently opposition to the plant has been building Burrillville, where residents are facing potential economic and environmental disaster due to the plant. Hundreds showed up at a community meeting with Keable and Fogarty at the Jesse Smith Memorial Library in Burrillville and hundreds more came out to the EFSB public hearing at the Burrillville High School. The political pressure is intensifying and many residents feel that Raimondo talk about being an environmental champion rings hollow given her support.
It was perhaps because he wanted to protect his status as an environmental champion that Senator Sheldon Whitehouse went from supporting the plant in an interview with Channel 12's Ted Nesi to claiming that he can't oppose or support the plant for political reasons in an interview with Bill Rappleye of Channel 10.
It turns out you can't support the environment and fracked methane.
Still, Raimondo's statement said that she's "listening to community feedback and concerns" so that seems to mean that she needs to hear from people opposed to this plant and who want to see Rhode Island embrace a clean energy future. Given that, here's the governor's address, phone number and a link to the Governor's contact page:
Office of the Governor
82 Smith Street
Providence, RI 02903
Phone: (401) 222-2080
http://www.governor.ri.gov/contact/
Is Raimondo's power plant support softening?

,