I would hate that you should have an unfortunate accident. . . 
Last night while I was speaking to some people about the Moving Together PVD boulevard proposal, a man in a grey sweatshirt came over and said "This one here better not get into an accident on his bicycle or he might not get to the hospital in time on his boulevard.*" That man, it turned out, was Mayor Joe Polisena of Johnston, Rhode Island.
I took a deep breath, not knowing the man was the mayor of Johnston, and reached out to shake his hand. "Hi, I'm James Kennedy. I understand that this might not make sense at first, but the proposal I'm pushing is about making commutes better for the suburbs. I'd like to explain that to you."
"I'm the mayor, I don't need your explanation. How much more is your boulevard going to cost?"
"It's cheaper, actually. It'll shorten bridges and allow us to put the grid of the city back together. It's going to be better for drivers and help us lower costs."
He walked away.
After Director Peter Alviti of RIDOT made his presentation, Mayor Polisena was given time to give comments. He again turned to me and stated that one thing he knows as a nurse is that "minutes count" and that a boulevard would back up traffic and cause people to die before going to the hospital.
In the second context, his statement was less of a veiled threat, and more of a factually inaccurate statement. But nonetheless, it was irking to have public officials point to me, make reference to me "having an accident" and then not being allowed to respond to explain my proposal. Alviti did not let me comment in public on the proposal, but instead funneled comments through table "stations" which divided the group and made it easier for DOT to control the conversation (I did convince some suburbanites, though. . . ).
Popsicles in Olneyville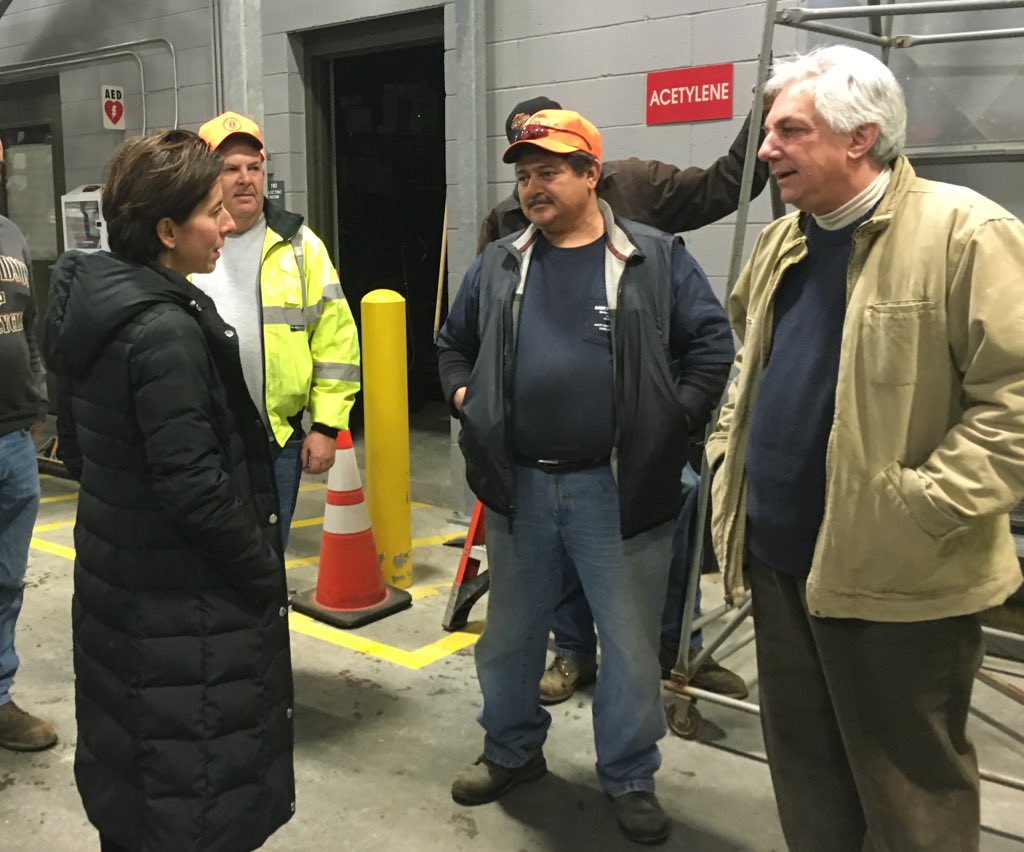 Mayor Polisena may not know how to comport himself in public, but on the contrary, Dir. Alviti does. I know from having met with Dir. Alviti that he is a good man that wants the best for the community, but I think somewhere in the public process Alviti has decided that suburbanites can't wrap their heads around the boulevard. This is why he's been pushing a decked highway– what I've dubbed the "6/10 Dig"– instead of a boulevard.
Alviti grew up in Silver Lake, and he's told me in closed meetings that he used to walk as a child from Silver Lake to then-contiguous Olneyville to buy popsicles at the store. No child could do that today, and I know for certain that in a difficult political environment, Alviti is putting forward his expensive highway decking approach because he wants to try his best to pull a good situation from a bad plan. But his plan is wrong, and we have tradition on our side on this.
I'll betchya a Guinness. . . 
What is a decked highway? Well, while the Moving Together Providence plan calls for shortening bridges so that they only have to cross the train tracks, a decked highway calls for full length bridges over the train tracks and the highway. But that's the bridges. The decked highway is itself another bridge: a kind of "world's widest" bridge. It's not only full length, but the width of the entire area of whatever part of the highway is supposed to be covered.
How can I tie these disparate threads of the story together? Who do we know who made veiled threats, who was beloved by suburbanites who once lived in the city, and who dealt with heady questions about a world's widest bridge?
Ah, I knew there was someone. . .
I may not have had the level of enthusiasm for Buddy Cianci that some have had, but I can say one thing: Buddy Cianci knew how to get rid of unnecessary infrastructure.
The "World's Widest Bridge" (in the Guinness Book!) was once over the Providence River. The purpose of that bridge was to carry traffic around Suicide Circle. Buddy Cianci moved a river and the Northeast Corridor, and took that bridge down, to transform the waterfront of Providence. By contrast, we need not move any river, or any train tracks, and need only remove bridges that are about to fall anyway. And then we propose replacing them with a boulevard that continues off of Memorial Boulevard.
Like Buddy did. You know, but cheaper.
Where there's smoke, there's logical fallacies.
And for the record, though the concern raised by Mayor Polisena about traffic and ambulance response times is a legitimate one, he is unfortunately mistaken about the nature of traffic. To begin with, the highway creates a wall with pinchpoints that only allows traffic through at odd intervals, so that even though Olneyville Square has a nearly 50 percent car-free rate and no job centers to draw outside commuters, it has some of the worst traffic in the city. Creating a boulevard would open up and make better use of Harris Avenue (which is currently pinched into a one-way street at one end, and thus carries less traffic than it might otherwise be able to). Building a boulevard would mean shortening bridges over existing crossings like Dean, Atwells, Broadway, and Westminster, and thus allowing totally new streets to be reconnected– essentially adding lanes for traffic to use. Building a boulevard would mean that there would be development and walkability near the Bus Rapid Transit lines, which is essential if we want them to be more than a decoration, and to actually carry ridership. And all of those factors mean that a boulevard would improve traffic, not make it worse.
As a matter of fact, I've been taunted about fire and ambulance safety before, and so I researched it by contacting UK-born Dutch biking expert David Hembrow. He pointed out to me that traffic is so efficiently dealt with in the Netherlands that cities and towns have far fewer fire stations than in the U.S., and have better response times. But that wasn't always the case. Here are some images I pinched from his website:
Oops, that one's a before from somewhere else. Let me try again. . .
Wait a minute! Malfunction!
Ack! Where are my Dutch photo examples! Okay, last try. . .
This one's Olneyvillestadt. I think that's a part of the Netherlands. . . Next to SilverLakestadt and WestEnderstam. . .
Alright, you get my point. No World's Widest Bridges, okay? It's a bad idea. It's not worth the G-Note getting passed down the hallway (and I ain't heard about that, you hear? Have some sauce). A boulevard is the best option for suburbanites. All that Dir. Alviti needs to do is refer to the state's greatest salesman, who, er, well, wasn't the most legitimate or upstanding politician, but who was someone who knew how to make the Woonasquatucket a place to visit.**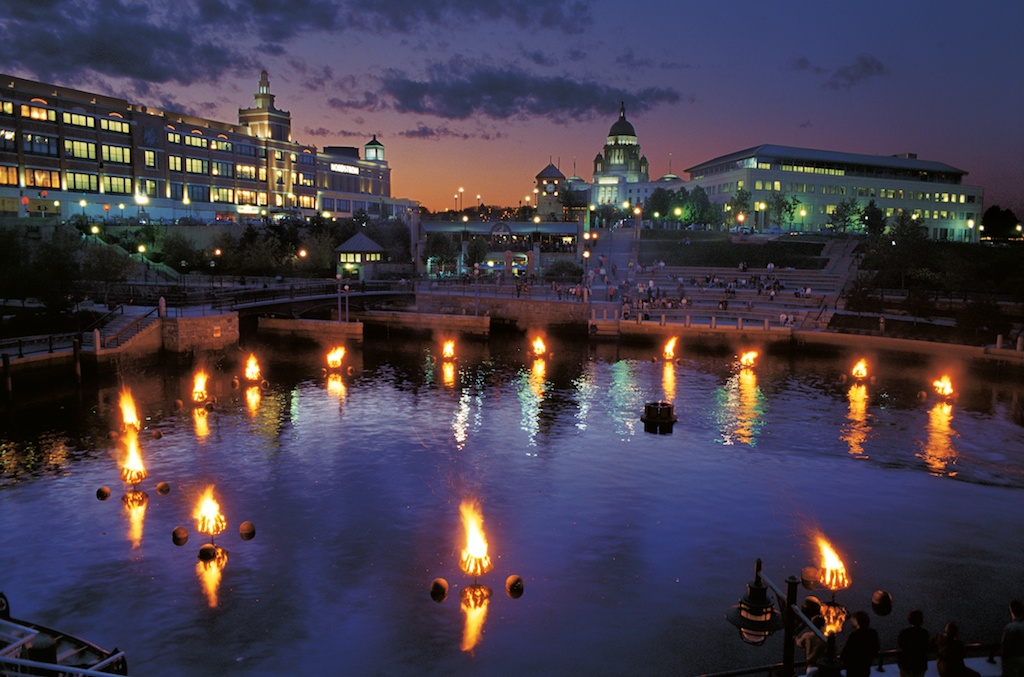 ~~~~
*As a side note, I took two buses from work to meet a carpool to Johnston, so I didn't bike to the meeting.
**I voted for Elorza, alright?
6/10 project, and other things that remind me of Buddy Cianci

,