General Dynamics, doing business as Electric Boat, announced last week it is building a $2.5 billion military submarine in Rhode Island. Good news for the state's struggling economy, as defense contractors here are a major source of jobs, income and tax revenue.
"I couldn't be more proud to have Electric Boat in our backyard," Governor Gina Raimondo said at the submarine's keel-laying ceremony.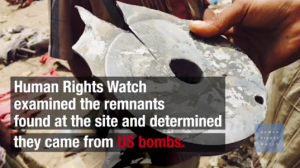 Just a few days later, New York Times foreign correspondent and former Providence Journal reporter CJ Chivers wrote this about what seems to be a different General Dynamics product. "A Saudi Arabia-led military coalition used bombs supplied by the United States in an attack on a market in Yemen last month that killed at least 97 civilians, including 25 children."
If the bomb in question was made by General Dynamics, it would mark the second time a company with significant ties to Rhode Island has made a weapon that was used by Saudi Arabia against civilians in Yemen.
General Dynamics did not immediately respond to a request for comment. An arms expert for Human Rights Watch told RI Future he could not confirm the make of the bomb. "There wasn't enough left of the bombs to determine when or where it was produced," said Mark Hiznay. But here's what we know:
"Remnants" of a GBU-31 satellite-guided bomb, were found at the bombed Yemeni market, according to this Human Rights Watch report. The guided bomb unit "consists of a US-supplied MK-84 2,000-pound bomb," says the report. General Dynamics "is the only manufacturer of steel forged MK80 Series Bomb Bodies within the National Technology and Industrial Base which conform to the U.S. Department of Defense Technical Package" according to its website.
The weapon in question could be more than 40 years old, Hiznay said. But the United States still sells new versions of the bomb to the Saudis. In November, 2015 the State Department announced it was selling 1,000 GBU-31 bombs to Saudi Arabia, among many other weapons, for $1.29 billion. Human Rights Watch workers suspect the bomb used on March 15 in Yemen was from the 1970's.
"The US remains a significant supplier of arms to Saudi Arabia," according to a new report from the Stop Explosives Investment Campaign. "Licensing data for 2015 has not yet been made available, but during the year, the State Department approved six major arms sales to the country, collectively worth US$20.8bn."
"Numerous human rights and peace organisations have campaigned over the past months to establish an arms embargo against Saudi Arabia," Frank Slijper of PAX, a Dutch peace organization that is a leading voice on foreign arms sales, told RI Future via email. "When European arms appear to be used by a country for committing war crimes, stopping the arms trade to that country is the logical answer."
In February, cluster bombs made by Rhode Island-based Textron were implicated for injuring civilians and high failure rates when used by Saudi-led forces in Yemen. The American Friends Service Committee of Southeastern New England plans to protest outside Textron's headquarters in Providence on April 18.
General Dynamics is based in Newport News, Virginia and the division that makes the Mk-84 bomb is located in Florida, the weapons were manufactured in Texas. But General Dynamics has operated as Electric Boat, the company's initial name going back to the early 1900's, at Quonset since the early 1970's. Based, in Groton, Conn., Electric Boat employs roughly 3,000 people in Rhode Island.
Both incidents have attracted local and international scrutiny to US companies involved in what President Eisenhower called the military industrial complex, an industry that looms large in the Ocean State.
"The Defense Sector plays a major role in the Rhode Island economy because of its unique ability to undertake large and small-scale basic and applied research and development projects and to push manufacturers to develop innovative products and revamp supply chains to meet production and/or distribution demands of civilian and military projects," according to a 2014 legislative report on the defense sector in Rhode Island.
There are 32,900 jobs in Rhode Island, 6.2 percent of all jobs in the state, that are supported by the defense industry, according to the report.
About half of the defense-supported jobs in Rhode Island (roughly 16,000) are private sector positions. There are some 6,000 jobs directly working for defense contractors. Ship building, such as Electric Boat's submarine contract, constitute about 47.7 percent of private defense employment in Rhode Island.
"In 2013, the Private Defense Industry contributed to the creation of $462.5 million in direct income for households in Rhode Island. In addition, the direct contribution of the Private Defense Industry to the state's Gross Domestic Product (GDP) is estimated at $947.6 million," the report says.
The defense industry is responsible for more than $100 million in annual taxes, the report says. The average annual salary in Rhode Island's private sector defense industry is $72,361 while the average salary for education and health services is $37,000 and the average salary in tourism and leisure is $18,000, according to the report.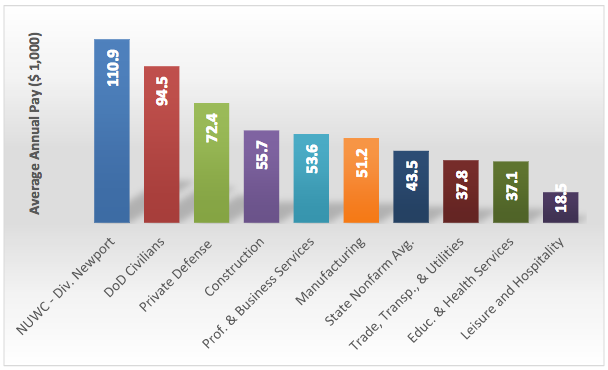 Meanwhile, the fruits of economic development from the US military industrial complex, whether directly or indirectly, is causing a human rights catastrophe in Yemen that could be aiding al Qaeda in the highly impoverished African nation.
What US company made the bomb that killed 97 civilians in Yemen?

,