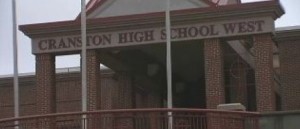 When people use the word religion, they need to be precise. Merriam-Webster cites at least four different definitions of the word, and some people, either through ignorance or in an attempt to deceive, confuse the meanings in an attempt to score rhetorical points.
A case in point is Justin Katz, who recently commented in the Providence Journal forums about the new prayer banners installed at Cranston West High School.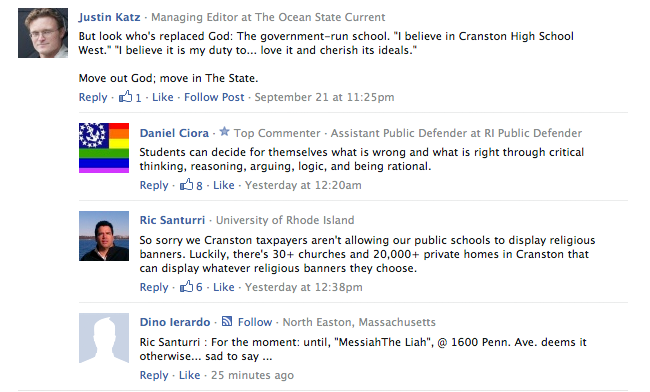 Katz's view is that a secular banner proclaiming various feel-good school-spirit slogans has replaced the "God" of the original banner with a new religion, the "State."
Note the duplicity here. The first definitions of religion, "the service and worship of God or the supernatural" or "commitment or devotion to religious faith or observance" has been equated with the fourth definition, "a cause, principle, or system of beliefs held to with ardor and faith." Note that Katz's sloppy definitions have allowed him to move from the supernatural to the secular in what can only be seen as a category error, and a poignant demonstration of the fallacy of equivocation.
Katz expands on his view on his blog, Anchor Rising, where he says (italics mine),
In this case, it is the government school, itself, that is the source of morality, with the "creed" going so far as to express belief in the school as if it is some sort of deity.
and
If anything, the new version is even more of "an establishment of religion."  The original involves an expression of religious belief only by the insinuation that praying to a Heavenly Father implies belief in Him.  The new version involves repeated statements of explicit beliefs that the government is imposing on the students whose education it controls.
Katz has made a career out of maintaining that a rejection of religion must automatically make one a member of the religion of Government. In May of this year he published "Catholic and American in New England" which ran in the ProJo as an editorial, and I felt compelled to write a response to his position, also as a ProJo editorial.
Talking about Rhode Island's then recent passage of marriage equality, Katz interpreted secular laws as religious edicts, saying,
In the case of marriage, with narrow exceptions, the state government has essentially issued a command: "Thou shalt treat same-sex relationships as equivalent to opposite-sex relationships."
As I pointed out,
In contrasting secular law with religious commandments Katz is forcing a choice: either the church sets the parameters of the state, or the state has de facto become the church. Under Katz's formulation their can be no separation of church and state, no renderings to Caesar that which is his or unto the government its due. There is only one supreme authority, and a choice must be made.
Secular speech, by the government or anyone else, is not religious speech, no matter how much much we torture the definitions of our words. If Katz is right, then the founding fathers, and specifically the authors of the First Amendment, are idiots for having written "Congress shall make no law respecting an establishment of religion" because under Katz's formulation all laws, and even ideas written on a secular banner hanging on the wall of a high school auditorium, are religious in nature.
This is a useful idea, I suppose, if one wants to abolish the concept of separating church and state and establish some sort of Catholic theocratic rule here in Rhode Island, but most of us, I am sure, prefer to deal with a government that gets its orders from the people, not from a church hierarchy that pretends to get its orders from God.
The difference between religion and government

,