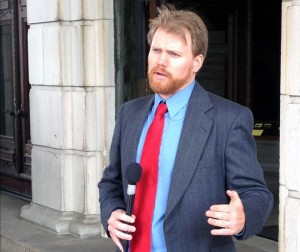 Independent congressional candidate Abel Collins may have little chance of beating incumbent Jim Langevin. But then again, Mike Riley, the Republican candidate doesn't have much of a chance either. So that can't be the reason two of the TV networks – WPRI and WJAR – have decided to snub Collins from their CD2 debates.
Maybe it's because Riley has the endorsement of one of the two major parties and Collins doesn't. But that logic can be countered with the reality that Collins, a social and economic progressive, is far more in political step with the average Rhode Islander than is Riley, who is a far-right wing radical more akin to Ron Paul than John Chafee, so maybe that's not it either.
The reality is TV stations owe their allegiance to ratings rather than democracy, and at the end of the day they are going to do whatever they need to in order to get the most amount of people to watch.
To that end, maybe a petition spreading around the internet imploring WPRI to allow their audience to see how Collins' ideas stand up to Langevin's and Riley's.
According to a Phillipe and Jorge column this week that brought a ton of attention to the two TV networks blacklisting of Collins, they think WJAR will eventually invite Collins to their debate.
All three candidates are invited to both the Rhode Island Public Radio/ABC 6 and the WPRO debates.
Of course, I think Collins should be invited to all the debates. In fact, I'd like to see him and Riley one-on-one. I think that would show which one of these two Langevin challengers is the fringe outsider.