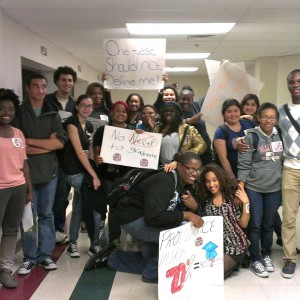 The Rhode Island ACLU is honoring the Providence Student Union with its "Raymond J. Pettine Civil Libertarian of the Year" award at its annual dinner in November.
The students of PSU have, with professionalism, passion, conviction, and humor, and always with a positive message, brought issues of students' rights in general, and the dangers of high stakes testing in particular, to the forefront of the public debate," said Steve Brown, executive director of the RI ACLU. "We are grateful for, and pleased to recognize, those efforts and also recognize the hope they hold for the future of the state."
The PSU has brought national and local focus to high stakes testing in Rhode Island. The student group has parlayed creative direct actions, like a zombie march and an adult test-taking session, into appearances on national television and prominent op/ed pages. They've been lauded by Diane Ravitch and dismissed by Deborah Gist. As a result, they've managed to make the NECAP a pressing political issue in Rhode Island, with the General Assembly and Providence Mayor Angel Taveras calling for reconsideration while the Board of Education and RIDE keep hoping the issue will go away.
The adult leaders of the group are Aaron Regunberg and Zack Mazera, two recent Brown grads who decided to take on the education reform movement in Rhode Island by helping to organize students around the issue.
"The award is being given to the student organization for its inventive, passionate and positive efforts to give students a voice in decisions affecting their education, and particularly for the group's strong advocacy against the state's new high stakes testing requirement for high school seniors," according to a press release from the ACLU.