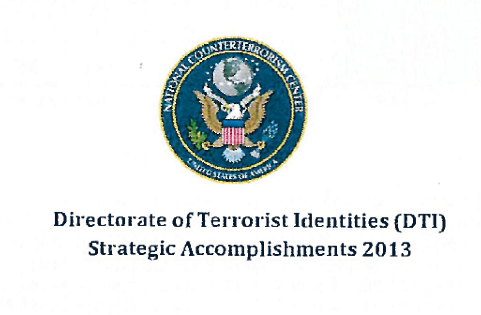 Leaked classified documents indicate the Rhode Island Department of Motor Vehicles is sharing residents' driver's photos with the National Counterterrorism Center, a little-known federal agency that has authority to broadly monitor US citizens, according to the RI ACLU.
"The ACLU of RI has deep concerns about our state's collusion with the NCTC in this manner, because it means that the DMV is assisting the federal government in collecting personal information about innocent Rhode Islanders," wrote RI ACLU Executive Director Steve Brown in a letter to the DMV on August 20.
The ACLU sent the letter to media outlets today. It describes how the document in question indicates Rhode Island, and only 14 other states, have allowed the NCTC to use driver license photos in a vast database of American citizens.
In response to media inquiries, Governor Lincoln Chafee said, "Since the receipt of the letter, my administration has done an investigation and has found no evidence of the proactive sharing of information with the NCTC. I look forward to working with the Rhode Island ACLU on this issue."
The ACLU's Brown said the document came to his attention while reading a post on The Intercept, a news website that publishes Edward Snowden documents.
This post, written by highly-regarded national security reporters Jeremy Scahill and Ryan Devaraux, is titled "Barack Obama's Secret Terrorist-Tracking System, By The Numbers". They report, "Of the 680,000 people caught up in the government's Terrorist Screening Database—a watchlist of 'known or suspected terrorists' that is shared with local law enforcement agencies, private contractors, and foreign governments—more than 40 percent are described by the government as having 'no recognized terrorist group affiliation.' That category—280,000 people—dwarfs the number of watchlisted people suspected of ties to al Qaeda, Hamas, and Hezbollah combined."
The story links to a document, with a National Counterterrorism Center seal, called : "Directorate of Terrorist Identities(DTI)Strategic Accomplishments 2013". It says Rhode Island is one of 15 states to participate in a program that collects facial images from driver's licenses.
On page 8, it reads:
To fulfill the biometric enhancement mission within DTI's Identity Intelligence Group (IIG), the Biometric Analysis Branch (BAB) began an outreach/partnership effort with the larger law enforcement community to collect facial images associated with driver's license data. With support from FBI partners and NCTC's Domestic Representatives, this enhancement mission took on significant growth in FY13. BAB now coordinates directly with the following states; Arizona, Texas, New York, Maryland, Delaware, Washington DC, Florida, California, Virginia, Oregon, Massachusetts, Nevada, Gieorgia, Colorado, Washington, and Rhode Island. This effort has resulted in 2,400 Driver's License facial images added to TIDE in FY13.