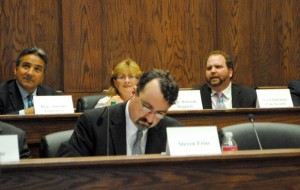 At yesterday's bi-partisan Preparatory Commission ahead of a report on "possible issues for consideration at a Constitutional Convention," lawyer and Republican national committeeman Steven Frias, played the role of cross-examiner as he attempted to pin down the ACLU's Steve Brown on the efficacy of the 1986 Constitutional Convention.
Noting that he was asking a "subjective question" Frias asked Brown "Have good amendments come of constitutional conventions in the past?"
Brown, who has only studied the 1986 convention in Rhode Island, answered, "Nothing that came out of the 1986 convention was worth it. No."
"Not the Ethics Commission amendment?" pressed Frias.
"No, and that's an interesting one," countered Brown, "The Ethics Commission was one of the few, so-called 'good government' reforms that passed the convention and here we are a few years later, complaining… we need another convention in order to correct the language that was passed in 1986."
Frias did not like Brown's answer. "Would you agree," he asked, "that the reason we are trying to change the language in the amendment is due to a [State] Supreme Court decision that was enunciated at the end of the last decade in regards to Senator Irons?"
"No," answered Brown, "I would say it's because of the ambiguity in the language [of the amendment] that was passed by the 1986 convention."
Now visibly annoyed, Frias, who obviously feels that the Supreme Court decision was a case of judicial overreach and not a problem inherent in the language of the amendment, concluded, "Okay, thank you. It's a legal interpretation."
You can watch it here:
Also of interest was Brown's description of the "bundling" of amendments. The 1986 Con-Con ultimately approved 25 amendments for consideration by voters. Because that many questions could not fit on the ballots, some amendments were bundled together, meaning that they had to be approved or rejected as a group. Of course, since the delegates to a Constitutional Convention are entirely self-directed, there are no limitations on the number of amendments that can be proposed.