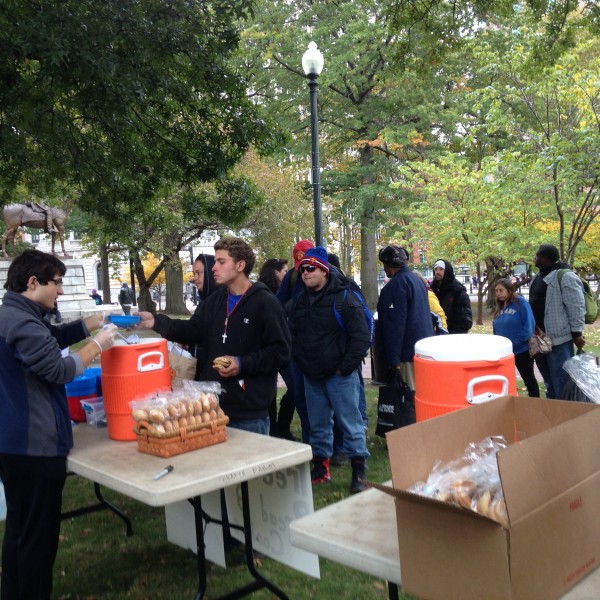 A group of activists gathered in Providence's Burnside Park to distribute free food and clothing to the homeless and needy in the park on Saturday. As the first direct action protest of the newly-reconstituted Food Not Bombs Providence (see previous report for an interview with two members), the action was a direct protest against the prioritizing of military-industrial spending over the needs of the homeless, a large sub-group of which consists of American military veterans.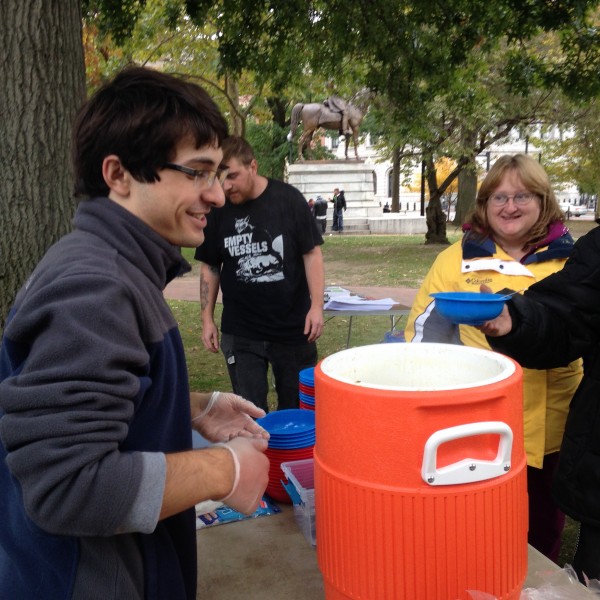 There was no instance of police harassment or efforts to shut down the action and the individuals who took advantage of these services were grateful and civil to both activists and each other. One matter highlighted by various people who preferred not to go on the record was the newly-enacted anti-smoking laws being enforced in public parks. While the effort to ban tobacco use seems noble and a public health initiative, in practice it is merely another opportunity for the police to criminalize homelessness. This sort of deceptively-genuine public health policy is typical of neoliberal political and social control policies that is actively working to gentrify Providence and ethnically and socially cleanse the urban landscape of undesirables rather than proactively ending their problems in an emancipatory fashion.
Food Not Bombs as an anarchist movement is the type of direct action that counters these racist and classist policies developed by politicians like Jorge Elorza and smoking ban ordinance co-sponsor Louis Aponte, who invoke identity politics as a cover for a policy that, as irony would have it, includes as targets Latino and African residents of the city.
This reporter took the opportunity to sit down and conduct a short interview with a young man named Stephen, who shared his insights about living without a home and what he thinks needs to be done to improve the well-being of people like him.