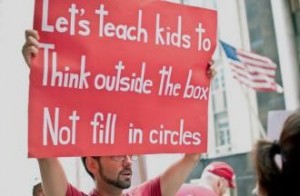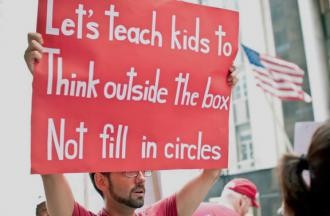 My friend Tina Egan and I spent our Sunday afternoon at the RI Board of Education meeting on August 26.  I am very proud of Tina as she was one of the plaintiffs on the recent lawsuit that ensured such an important meeting, which included a presentation on the use of the NECAP as a graduation requirement, would be open to the public.
Tina and I are parents of children with disabilities and we feel strongly that our children deserve the opportunity to receive a quality education and the opportunity to receive a diploma for their extraordinary efforts.  We both got involved in this issue after seeing, first hand, the unfairness and discriminatory policy of utilizing the NECAP as a graduation requirement for students with disabilities.  Later, I came to realize that this policy not only hurts students with special needs, but all students and education in general.
Going into the meeting, I admit that I expected it to be a one-sided argument in favor of keeping the test as a graduation requirement.  I was somewhat surprised to hear information during the meeting that was clearly not supportive of the policy.  Granted, I'm sure my observations are from a parent's perspective, but since students and parents are the real stakeholders in this discussion, I hope those reading this will consider my views just as valid as those of someone like Bill Gates.  I'm fairly certain he's never met my son nor does he know the most appropriate way to assess his abilities.
Well, after digesting the meeting and looking back at my notes, the most significant thing for me was the focus on closing the achievement gaps (between kids with disabilities, English language learners & low income students vs. generally white, non-low income, non-disabled students).  Andrea Castandea, from RIDE, opened with a slide showing the substantial achievement gap for these students and then closed the meeting with the same slide.  As someone with a special needs student, the achievement gap is a serious concern.  Closing the achievement gap is what No Child Left Behind and Race to the Top are supposed to be all about.
Yet, according to former Massachusetts Education Commissioner, David Driscoll, the first guest speaker of the afternoon, Massachusetts STILL hasn't closed the achievement gap even after 20 years of reform measures and the implementation of the MCAs as a graduation requirement.  In some categories it's actually increased.  Massachusetts is held as the model state for it's high achievement and great test scores.  Yet, after all of their education reform policies, they still have not solved the basic problem of how to help students with disabilities, limited English students and low income students achieve the same level as their non-disadvantaged peers.  For all the hoopla, Texas hasn't done it either.   Apparently, no one has, as there is no evidence that the use of standardized tests as a graduation requirement closes this gap.  It's very sad for our most vulnerable kids since they are also the ones made to feel like failures for not passing it.
However, Dr. Driscoll provided a brief history lesson on the journey that Massachusetts took towards using the test as a graduation requirement:
 Legislation was passed and signed by Gov. Weld in 1993 (The Massachusetts Education Reform Act)
Part of the legislation was to make a significant investment in education – particularly in urban / low income districts.
The state, districts and educators worked on aligning curriculum and preparing students for 10 years prior to implementation of the MCAS as a graduation requirement in 2003
MCAs given in 10th grade (not 11th grade as in RI)
We also got a brief history on Rhode Island's journey to implementation of the NECAP as a graduation requirement from Ms. Castaneda:
In 2007 the Board of Education decided that a 'statewide assessment alone could not determine graduation'
In 2011 – the Board 'revisited' the issue and decided that the 'statewide assessment would have equal weight to course requirements and PBGR (performance based graduation requirements. ie: senior project, portfolio, etc.).
The comparison was pretty striking. Unlike MA, Rhode Island's policy was never voted on by lawmakers or approved by the Governor.  I also learned that this policy was decided on by 6 Board of Education members in March of 2011 (These six people were: Robert Flanders, Patrick Guida, Anna Cano-Morales, Amy Beretta, Karin Forbes, Betsy Shimberg).  Secondly, Rhode Island had 3 years to align curriculum instead of 10.
Back to Massachusetts. Should we really be using them as a model?  Apparently, Massachusetts is towards the bottom in the country when it comes to closing the achievement gap for kids with disabilities, ELLs, low income students, etc. Here is an interesting report from an advocacy group that outlines the problem:
http://www.citizensforpublicschools.org/20-years-after-education-reform-cps-calls-for-new-direction/
The second speaker was Dr. Stuart Kahl, Founder of Measured Progress, Inc., the developers of the NECAP.  I was eager to hear Dr. Kahl's comments as he as previously has supported the importance of in classroom assessments, multiple measures and a balanced assessment system.  He has talked of high stakes tests being a measurement of systems not individuals and has made the following statements:
"No testing expert, company, or user manual has ever failed to warn consumers that major decisions should not be based on the results of a single test."
"Race to the Top should provide opportunities to explore more meaningful ways to measure achievement of students with and without disabilities. …it is difficult to measure achievement of students at the lowest and highest ends of the performance spectrum, as the preponderance of items are situated around the proficient/not proficient cut score to provide the greatest accuracy at that decision point for accountability purposes."
"Race to the Top grants should allow for the time, the research, and the resources needed to develop assessments that are not burdened by high stakes, so that students can truly show what they know and teachers can determine better ways to teach."
Unfortunately, Dr. Kahl basically reiterated that the tests are valid in their alignment with grade level expectations (GREs) and content. However, when asked by one of the Board members if all students have had the opportunity to learn these expectations and the content, Castaneda replied that "not every student has had access to the curriculum."  She pointed out that some students may not be taking geometry until their senior year.  I know for certain that this is absolutely true.  Some students simply learn at a different pace.  So, unless we learn how to speed up their brains, districts, schools, teachers and now students are being punished because not all students learn at the same pace.  Something is extremely wrong with that mentality.
The most compelling speaker was Tony Wagner from Harvard University who spoke to the group via Skype, Essentially, he told the Board that the reform movement is completely wrong headed and the over reliance on high stakes testing in "educational suicide" (which drew enthusiastic applause from the audience).
Instead, he urged the Board to place more emphasis on the real skills required in the 21st century  1) thinking critically; 2) communicating effectively; 3) working collaboratively and 4) solving problems creatively.  Wagner recommended accountability measures that focus on what students can do, not what they know and advocated the use of student portfolios to emphasize this.
While I was pleasantly surprised that the Board was provided some diverse opinions on the issue of high stakes testing, I wish they had really engaged in a true pro-versus-con on the issue and heard from someone like Diane Ravitch.  Or, heard from Temple Grandin who would testify that visual thinkers are just as important as mathematicians.   More importantly, I wish that members of the Board could receive more input from teachers, principals and, once again, students and parents.
Students and parents need to be engaged on this issue.  For me, my son is a junior in high school and will hopefully graduate, soon, to lead a successful and fulfilling life.  However, I genuinely fear for any child entering our schools in the next few years.  If things do not change, I fear they will have an education experience that will focus on students becoming just a test score, teachers only teaching to the test and a total lack of motivation to achieve anything beyond a partial proficiency.
Lastly, a comment that really stuck out in my mind was from Andrea Castaneda.  She stated that the Department of Education stands "shoulder-to-shoulder with school committees, superintendents and principals" on the use of the NECAP as a graduation requirement.  It struck me that the teachers, parents and students were not included in that grouping.  Perhaps it's teachers, parents and students that need to stand shoulder-to-shoulder and demand more from our education system.  It's happening all over the country.  There is no reason it can't happen here.
Affected parent recaps Ed. Board's NECAP discussion

,