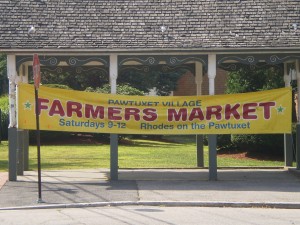 Farmers Markets are becoming a more integral part of communities all over Rhode Island, especially at the Pawtuxet Village Market in Cranston, Rhode Island.
Every Saturday morning from 9:00-12:00 farmers from all over the state gather in the Rhodes on the Pawtuxet Parking Lot to sell their goods to the locals that frequent the market. Patrons can buy anything from heirloom tomatoes to wild flowers or even fresh fish.
The Local Catch is one of the many stands that can be found at the Pawtuxet Farmers Market. Based in Narragansett, The Local Catch is run by Richard and Ann Cook. "We've been coming to this farmers market for two years," said Mike Grattan, who was manning the stand on this particular morning.
"We're about ten feet from the water so it's always fresh." The stand offers anything from haddock to halibut; the quality of the fish was backed by each customer that came to get some of this week's catch. "It's very fresh! I come every week," one woman very eagerly told me as she handpicked her pieces of haddock.
Blue Skys Farm is arguably one of the most popular stands each week at the market, offering beautiful flowers and vegetables grown on the two acre farm in Cranston run by Christina Dedora.
"Farmers Markets make up about 75% of our business," Dedora said. "The people here are special, they're very loyal and tend to buy a little from each stand."
As Dedora told me about the loving, family atmosphere that had welcomed her for years, a woman approached us and, gesturing towards the little girl she was holding, said "Every Saturday morning she asks, 'Are we seeing Christina?!" At this, Dedora was brought to tears, again repeating the sentiment that the family atmosphere is what keeps her and her goods coming back.
This overall impression was echoed by Bernard Bieder, who runs Bernie B's Bees, based in Warwick. Bieder's stand offers jars of honey as well as beeswax candles and sticks of honey for children and adults alike to enjoy. "I've been coming here for 9 or 10 years, I've had opportunities to go to bigger markets before but it's a real family affair here." As I watched Mr. Bieder do his business I couldn't help but notice how many free honey sticks he was giving out to the children that came to his stand.
"When a little girl comes up to me with a quarter wanting a honey stick, I ask her if she's been good (they always say yes) and always give her an extra. Ask my wife, I give out more than I make!" Bieder shared with me that he turned 90 recently. "All of the other vendors made me a cake and signed a big card. We're a family."
Saturday mornings at Rhodes on the Pawtuxet are filled with family and fresh, local goods from vendors that think highly of their loyal patrons. Attending the Pawtuxet Farmers Market is not only a family affair, but also a great way to support local farmers and vendors from all over the state.