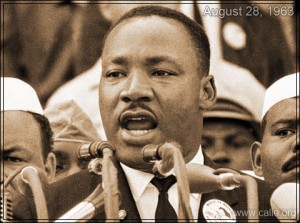 Free speech was certainly a central theme of Martin Luther King's "I have a dream" speech but evidently the heirs to his estate don't interpret his dream to extend to free information as well.
One reason the speech isn't always available on the internet or reprinted by the media is King's family has sued news outlets for copyright infringement. Mother Jones has an excellent post on the copyright debate over the famous speech, which includes this great lede:
I have a dream that on the 50th anniversary of the March on Washington, little black boys and girls will be holding hands with little white boys and girls as they watch the footage on TV of Martin Luther King Jr. delivering his famous words. I have a dream that on the red hills of Georgia, the great-grandsons of former slaves and the great-grandsons of former slave owners will be able to sit down together at the table of brotherhood this week, open their MacBooks and pull up the seminal speech on the internet.
The Oregonian has found a clever and value-adding way to skirt a copyright infringement by annotating King's Dream speeech.
But it's important, I think, that this nation-changing address be available for public consumption. It's one of the greatest ever expressions of American values, rivaled only by Thomas Jefferson's Declaration of Independence and Abraham Lincoln's Gettysburg Address. If it changed the world for the better the first time people heard him deliver what some say was partially ad-libbed, then maybe it will do so again.
If King were alive today, I'm pretty sure he'd want his speech posted on YouTube.