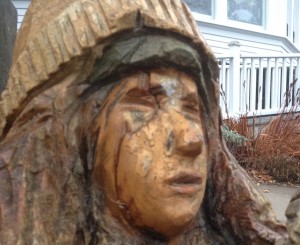 The surge of uncontrolled water flow brought Maura's attention back to the present. Flowing down her legs and into her boots was a sudden gush of water. She looked down, frightened, and then looked frantically at Jose. Seeing her eyes widen and look down, Jose had followed her gaze. This was not his first birth experience. When Jose had first come into the country, it was not unusual for migrant women to give birth in the camps. He had, on occasion, helped.
Steadying himself, he spoke quietly, "Maura, your water has broken. The womb is open and letting out the remaining water. The baby will come very soon." After helping her dry off, Jose placed several layers of cardboard on the ground near the burn barrel and put some more wood on the fire. He then helped Maura lie on the cardboard, trying to make her as comfortable as possible.
With the initial shock over and Jose's reassuring presence, Maura relaxed a little, remembering the vision she had experienced. She had been in her room, quietly studying the pictures on her wall. Most young women her age had posters of their movie idols or the latest music stars. Maura had a gallery of saints, new and old: St. Benedict, St. Francis of Assisi, Hildegarde of Bingen, Mother Teresa, and, surprisingly, Dom Camara of Brazil, Gandhi, and Martin Luther King, Jr.
Surrounded by these people of vision, piety, and strong faith, Maura would spend quiet time praying, something she did every day. On one unforgettable day last April Maura saw, had experienced, was overcome by a vision, a knowing. In an instant, she perceived, heard that she was pregnant. Although she could not really describe the vision, her feelings were still vivid. At first she was frightened, but then a miraculous calmness came over her and she knew everything was going to be okay. The reassurance was so over-powering that she knew she would accept this God-given gift of new life in her, no matter what the consequences. And there were consequences.
Disbelief and shock filled her parents' faces when Maura told them of her miraculous pregnancy. They told her to tell no one, made an appointment with her pediatrician, and started looking for a competent psychiatrist. Maura was indeed pregnant and refused any of the medical alternatives her parents, friends, and religious leaders offered. Maura's trust in her experience and her faith in God met the wall of disbelief unwaveringly.
Maura's pregnancy and her impossible story of conception were extremely embarrassing to her family. They felt the staring eyes of ridicule every time they walked out of the house. Her parents would not let her join her classmates in the high school graduation ceremonies. When her pregnancy began to show, her family, uncertain, and distraught, sent her to visit her older cousin, Beth, in Traverse City, Michigan.
Beth and her husband, Zack, owned a large cherry orchard and canning company. They welcomed Maura, making her feel at home, as best they could, but she had come at a very busy time of the year. It was the middle of the cherry picking season, which meant, in part, organizing and caring for the many migrant workers. Maura tried to stay out of the way. In the evenings she loved to walk through the orchard, tasting the ripened cherries that had not fallen that day.
On one of her evening strolls through the trees she met Jose. For some strange reason she felt drawn to him. They talked. He promised to meet her the next evening. Maura trusted Jose and told him about her vision and her pregnancy. She felt him react to this strange tale like everyone else, at first. But then, Maura felt a change come over him. Jose took her hands in his, telling her he believed her. No one, in all these long months, had said that too her. It was then that Maura knew she would stay with Jose.
"JOSE!!" Maura's scream was filled with all the fear, pain and uncertainty of childbirth. On this clear, starlit, wind chilled night Maura was about to give birth.
____________________
Editor's note: Check back here tomorrow for the fifth installment in Rev. Bill Sterritt's modern adaptation of the nativity story. RI Future is serializing Sterritt's 26-page short story throughout the holiday season.  Here's my post on the Amicable Congregational Church's nativity story and scene.