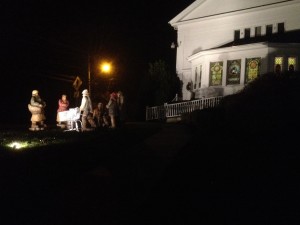 "We are looking for a couple with a newborn baby," Ani said quietly. "We think the baby may have been born yesterday. Although, it might not be until tomorrow. We are a little uncertain. Have there been any births today?"
Not only did she have three strangely dressed foreigners standing before her, their question was almost equally as absurd as their presence. To mollify them, the nurse said there had been several births that day. When these three strangers asked to see the babies, the nurse, at first, said it was impossible. But since they were persistent and she began to lose her fear of them, she told them they would have to wait until an orderly was free to accompany them.
After about an hour they were escorted up to the maternity ward. Standing in front of the plate glass window and staring into the room with the small, individual baby beds, the three visitors were somewhat taken aback. They had not expected to see the babies separated from their mothers. Disappointed they realized that the child they were looking for, the family in Isma'il's vision, would not be found in the hospital.
Thanking the orderly and the nurse, Ani, Appar, and Isma'il left the hospital feeling frustrated and lost. They had not gone ten feet before a young woman, bundled against the cold, ran into Appar. Both were surprised and stopped. The woman started to apologize, when she saw who was standing in front of her. She stopped in mid-sentence and then continued, "Who are you? What do you want?"
Without really thinking about what he was saying, Appar answered the woman's question. "My name is Appar. I am travelling with my friends. We have come a long way and are looking for a couple with a newborn baby."
Anna was speechless. What does this all mean?, she thought to herself. Regaining her composure, she said, "I have just come from a couple with a newborn. They are in an empty lot about a fifteen minute walk from here. I would take you there, but I am already late for work. Just go in this direction two blocks, turn left until you get to North Glenwood Avenue. They are one block down." Having said this, Anna ran into the hospital.
Following the directions given them by Anna, 20 minutes later they saw the empty lot on North Glenwood. Despite the cold and the desolation of the surroundings, looking at the couple from a distance the three weary travellers felt a sense of serenity and peace emanating from this family huddled by the fire. Each one knew that this was who they were looking for. They had arrived.
Jose and Maura sensed their presence and watched as the three strangers approached. They had experienced many wonders in this night, but these visitors were, without a doubt, the most unexpected. As Ani knelt down to see the baby better, Isma'il spoke, "We have travelled far from eastern lands to see you. Each of us have had a vision about you and your child. We do not completely understand what this birth means, but each, in our own faith traditions, have seen that this child is of great importance. We have come to see the child, speak to you of our knowledge, and leave with you small tokens of our esteem."
Having spoken, Isma'il reached into his white robes and pulled out a small pouch. Reaching into the bag he removed a roll of money. Looking at Jose and Maura Isma'il said, "Here is $1,000. Our great prophet Mohammed said, 'If you go to bed with a full belly and your neighbor goes to bed with an empty stomach, you are not a Muslim.' In this world, if you have food and money you are like a king. May this gift bring with it many blessings."
Bowing, Isma'il handed Jose the money.
Appar, who had been leaning forward to better see the child, pulled the cord that had been holding a small bottle around his neck over his head. Handing the bottle to Jose, he said, "This bottle contains water taken from the River Ganges. In our faith tradition this water offers healing to those who suffer from illness. We believe the River Ganges water can dispel all sorrows that life can afflict on one. I fear the child will need this."
Ani, who had been stroking the child's cheek, reached into her robes and pulled out a piece of rolled up paper. Handing the scroll to Maura, Ani said, "This is a birth chart. I have studied the stars, planets and other important signs. They tell me that your child is destined for a task of great importance. In my faith tradition, this chart helps to guide us on our life's journey. May it serve your child well."
Appar, curiosity over-coming him, asked, "What is the child's name?"
Jose and Maura replied, "Her name is Hope."
There was a long silence as each one gathered near the fire thought about the appropriateness of this name. Ani was the first to break the silence. "The immigration agency in Chicago requested that we report in, telling them of our location and about the child. But I am afraid, if we tell them about you and the child, they will be inclined to take the child from you. Therefore, we will plan to return to our homes from another airport."
Jose spoke first. "We, too, will be moving on in the morning, as we do not want to draw attention to ourselves or Hope. Thank you for your visit and your gifts. We will treasure them always. When Hope is of age, we will tell her of all that has happened this night."
Then Maura said, "Thank you. Thank you for the gifts, but even more for your journey here. Your coming takes away some of the uncertainty of our situation and will strengthen our resolve to care for our child."
After bowing deeply, Isma'il, Ani, and Appar walked back toward the hospital, hoping to catch a taxi back to the bus station. As Maura watched them leave, she reflected on the events of the last nine months, thanking God for the wondrous gifts of support and guidance, and pondering what the future held for Hope.
____________________
RI Future serialized Rev. Bill Sterritt's 26-page short story throughout the holiday season.  Here's my post on the Amicable Congregational Church's nativity story and scene.