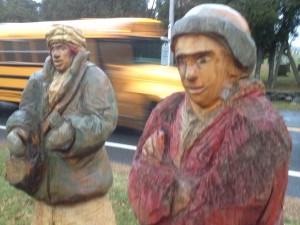 Following the path through the forest from the Shugseb Nunnery to the center of McLeod Gunj, Ani Rinpoche hardly noticed the incline or the smell of the pines or the beautiful rhododendron. Even the view of the Dhauladhar range and the Kangra Valley below failed to catch her attention.
She was in a hurry.
Ever since she had gotten Isma'il's letter she knew something new and exciting was unfolding. She had read it in the stars and the alignment of the planets. Even the animal signs, numbers and spirits seemed to point to something new, but she was unable to decipher the meaning. What was certain was the great excitement and urgency intimated in Isma'il's letter.
Without even noticing Ani passed the Om Restaurant and turned up the road, heading to where the bus from Kotwali Bazaar would drop off its passengers. She arrived at the bus stop a bit late, but the bus was rarely on time. There really was no telling how late the bus might be, so Ani leaned against the wall of a local handicrafts shop and waited. With eyes closed Ani relaxed, allowing the bustling of people and the aroma of the shops to engulf her, and, just for a moment, she had the strong feeling of being back in Tibet.
No sooner had the feeling filled her, when all the horrors of her last years in Tibet, in prison, caused her to tense up with anxiety and fear.
Opening her eyes to escape the unwanted nightmare Ani saw to her great delight the bus turning the corner and heading toward her. As usual the bus was full. In addition to the many Tibetans on the bus living in exile in Dharamsala, Ani was always surprised by the number of tourists who came from around the world to see the Dalai Lama and to learn about their ancient faith tradition. She enjoyed the diversity, but was continually disappointed that the publicity surrounding the Dalai Lama seemed to have no effect on the Chinese government's treatment of her people.
As the bus came to a halt, Ani scanned the crowd disembarking. Suddenly, he was there, standing in front of her. Isma'il Ahmad al-Azhar. He seemed even taller than she had remembered. His long white robe in combination with the white kufi on his head added to his elegant, almost royal, stature. His dark, almost black, face with the traditional tribal scars seemed much more worn and drawn than it had been when they first met four years earlier. But his eyes still shone bright with wisdom and joy.
"Ani-la!" exclaimed Isma'il, smiling a broad smile and bowing deep. Her eyes followed him fondly. Standing tall once more, he said, " It is so good to see you again. I hope you are well." As he continued to speak, Isma'il stepped aside, saying with a smile, " Ani-la, you remember Appar, do you not?"
Ani could not believe her eyes. Isma'il's coming was hard to grasp, but to see Appar as well was almost too much. But there he was, still wearing his old, worn robes and long, unkempt hair. "Welcome, Brother Appar," she said, and then asked, "But how is it that your wanderings have brought you back here to Little Lhasa? Have you renounced renouncing?" They both smiled and bowed.
"It was the will of Allah," stated Isma'il firmly, but with joy. "I saw him at the train station in Jullundur on my way here. He claims to have been waiting for me."
"I am, of course, over-joyed to see you both," Ani said. "Come, let us go to the guest house. The weather has been exceptional for late October and the walk will do us good. When we arrive, we can have some tea and you, Isma'il, can tell us what is of such great importance that you came all the way from Sudan to see me."
'Things have not been good in my country'
Isma'il picked up his small bag and the three of them began strolling toward Tushita Retreat Centre where Ani had reserved a room for Isma'il. On the way Isma'il told them what had happened since they had last seen each other.
"Things have not been good in my country. The civil war continues to destroy us through its never-ending violence. The Christians in the south are using violence indiscriminately. They have found a strong ally in the West, who has been using its economic might to render us poverty stricken. My brother Muslims also grow more vicious, while hiding behind the shadow of their supposed faith. How can either side be moved toward peace, when both have a knife at their throats? I feel more than ever that my Sufi tradition is needed in my country. But no one wants to hear about meditation and the inner life, about true peace, when guns are so readily available and hatred so strong."
Ani and Appar listened in silence. Both knew first hand the destructiveness and horror of violence. They had heard the news of the escalating violence in Sudan and thought often of their friend Isma'il. The silence was broken as Ani pointed out that they had arrived at the Retreat Centre.
"Let us go in and then we can continue our conversation over tea," Ani suggested.
After the arrangements had been made for Appar to share a room with Isma'il, they went into a small tea room next to the retreat center. When the tea was served, Isma'il continued his story.
"About three months ago I felt a strong voice, calling me to fast and pray. Leaving my home I went out to an isolated cave. On the third night of prayer and fasting a vision came to me. I saw a couple and their child. It was dark and they were huddled together, sharing warmth, protecting one another from the cold. I knew at once that Allah was with them, that they embodied the hopes and dreams of all humanity, and that they embodied all the pain and sorrow that keep hopes and dreams at a distance.
"As I continued to pray, I felt deep within me – I don't know why, but I felt it strongly – that I was to return to you, Ani-la. Meeting Appar on the way was not a coincidence. I don't know yet why we are to be together, but our gathering here is the will of Allah, of that I am certain."
When Isma'il finished there was a deep silence. Appar and Ani both knew the truth of Isma'il's words. They too had felt the pull of newness and gathering.
Ani broke the silence first. "I had seen there was something new in the stars and in the strange alignment of planets. I did not understand it, but your letter seemed to be related to what I was seeing in my charts."
Nodding in agreement, Appar spoke. "While lost in a deep meditation, I was shown a strange path. It appeared to be a completely new pilgrimage. Standing at the beginning of the path had been you, Isma'il. Given what you have said, my image came to me about the same time as yours. I was in southern India at the time. I immediately stood up and headed north, allowing Shiva to guide me. When I arrived in Jullundur, I understood that I was to wait for you."
"We are together now," Isma'il said matter-of-factly. "What we must yet discern is why we are together. I continue to be haunted by the vision of this couple and their baby. Other than the fact that they are from the West, I know nothing."
Appar spoke. "The strangeness of the path I saw was that it ended in total darkness, but there seemed to be light and something else on the other side of the darkness."
____________________
Check back here tomorrow for the next installment in Rev. Bill Sterritt's modern adaptation of the nativity story. RI Future is serializing Sterritt's 26-page short story throughout the holiday season.  Here's my post on the Amicable Congregational Church's nativity story and scene.