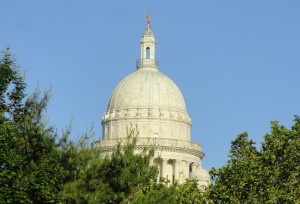 It's slightly less than a year before Rhode Island elects a new governor, and the holiday season is upon us. Luckily, Rhode Island's political wonks get their gifts early in the form of two brand-new polls, one from WPRI/The Providence Journal (courtesy of Joe Fleming) and the other from Brown University's Taubman Center overseen by Prof. Marion Orr. The former is for the whole state, the latter just of Providence.
As I've stated before, we should be skeptical of polling, especially given its track record. Yes, even campaigns have poor polling, as apparently even the David Cicilline campaign was expecting a far closer result than they got. And yes, there's some agreement between the polls, so maybe that points to their accuracy? Apparently Rhode Island voters give roughly the same approval rating to Angel Taveras that Providence residents do.
We learn from the Taubman Center that Providence residents like their parks, their police, their trash service, their fire department, their road quality, and their public schools (though not in that order); and are expecting the status quo to remain the same. Which is good news for any mayoral candidates, because all they have to do is not screw up (or slightly improve) the situation and they'll have a good approval rating. It's also good news because the general media attitude towards Providence is CRIME-MURDER-AHHH!!!! The headline for the Brown poll was notably not "Providence residents like the services they're getting!"
As for the WPRI/Journal poll, what did we learn that we didn't already know? People like Taveras slightly more than Raimondo. Clay Pell and Ken Block are relatively unknown. People like Reed, are not so happy with Chafee. It's good to check in on these things, but it's not earth-shattering revelations here.
There were no head-to-head match ups, so it's not like we have any inkling of how people will vote in the next election. Which is probably a good thing, because at this point, we should be learning more about the candidates and their positions, and hopefully will be.
I just want to give caution to following media narratives about our political scene right now. It's very easy for commentators to debate the merits of hypotheticals and convince themselves that Raimondo is going to run as an independent, or that progressives will throw themselves onto the Pell bus once it gets running, or that Block is an important figure that all Rhode Islanders are listening to. All of that tends to be conjecture, rumor, and hearsay.
As for the policy polling… I'm unconvinced of its importance to those who dwell beneath the marble dome on Smith Hill. Some of them will cite it as proof of the popularity of their positions, but I wouldn't expect it to have much of an impact on what passes through the 2014 session.