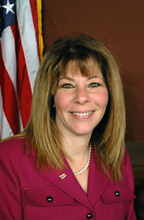 As to the criticism lodged against the headline of a recent piece on Doreen Costa's turnaround on the issue of the Town Clerk issuing gun permits in Exeter by "anotherjess" and Carolyn Mark, let me go on record as saying that I completely agree.
The headline was in poor taste, and I sincerely apologize to Doreen Costa and to anyone else who may have been offended by it.
Though I truly believe that I would have said the exact same thing if Doreen Costa were a man, I can understand why the headline would raise the specter of sexism on my part. Like most people, I like to think that I am above the kind of societal biases that color our perceptions and sometimes lead us astray in our public comments. I am a person very concerned with calling out such bias whenever I can, so it is humbling and instructive to be called out myself.
I take the issue of full equality for women very seriously, and though I disagree with most of the political opinions of Doreen Costa, I want to do so without bias and prejudice, and will endeavor to be more careful in the future.
Thank you to everyone who has brought this issue to my attention.
Apologies to Doreen Costa for the recent headline

,