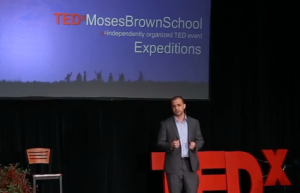 There will always be those people who feel nobody should get out of prison, or that they should not get parole, or not get opportunities like an education.  Andres Idarraga is someone who got out on parole.  He began educating himself while at the A.C.I. using his own money and ingenuity.
After his release, Andres spent the next seven years earning degrees from Brown and Yale. In a recent TedX Talk at Moses Brown he explains his journey up from and out of poverty, yet why that isn't enough; why he felt the need to start Transcending Through Education Foundation (TTEF) and support other folks, inside prison and recently released, who also want to pursue a Prison-to-School pipeline.
In full disclosure, Andres is a friend of mine and co-founder of TTEF.  Our friendship has spanned almost two decades, inside and out of prison, fueled by the power of inspiration.  Along with Noah Kilroy, we started this foundation with our own time, effort, and money.  The donations we seek are to stabilize and expand what we do.
When people talk about economic development, education, homelessness, and unemployment, they could easily add in the problem of reclaiming a major lost community resource: people.  Criminalizing Rhode Island residents, beyond the punishment of a crime, is weighing down the state as a whole.
Many of the people being punished by the criminal justice system are, like I once was, broken and hopeless.  As trite as it may sound, but "Hope" is a rare commodity in many places- especially prison- yet Hope is what TTEF creates.  We can't help everyone that wants an education, nor will an education ensure a job, a home, or happiness.  Hope is just fuel for the journey.
Andres Idarraga's and the prison-to-school pipeline

,