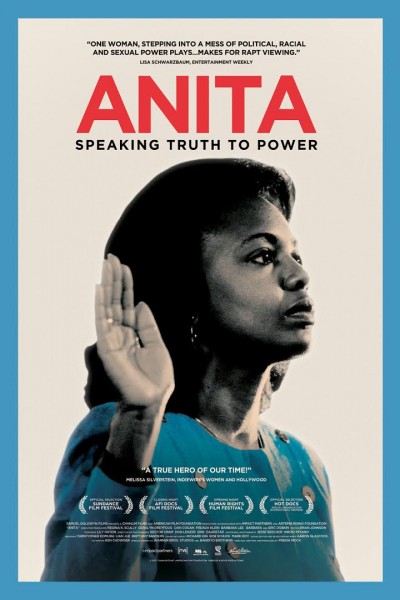 Everyone loves a good Throwback Thursday.
On Thursday, August 20, we're throwing it all the way back to the fall of 1991 and the US Senate hearings on then-Supreme Court hopeful Clarence Thomas, and the woman who stood up to sexism and male privilege in a room filled with both.
Anita: Speaking Truth to Power is a documentary that tells the story of Anita Hill, who accused Thomas of sexual misconduct during her time as a clerk in his office. By telling the truth about her experiences, Hill was catapulted into the public eye and became a symbol for the fight against sexual harassment and the abuse of power that subjugates and silences women.
We're excited to partner with RI's chapter of the National Coalition of 100 Black Women and the PVD Lady Project to bring Anita to the Cable Car Cinema in Providence, Thursday, August 20 at 6:30pm. We know it will start important conversations about how far we have come in the struggle for women's rights, and how far we have to go.
Anita exists to show Hill's bravery to a new generation of women. It's inspiring to watch as she remains poised and precise throughout invasive questioning by the Senate committee and smear tactics used by the Thomas camp. We live in a time when this kind of courage is still needed in the face of male privilege and institutional sexism, be it in the workplace or on a college campus or military base.
As we continue the fight for women's rights, we need to embrace what that phrase means to women from all walks of life. Anita is an important intersection of gender, race, and class/power. In a 2010 lecture, bell hooks called these three constructs "interlocking systems." This kind of intersectionality has always been at the heart of the struggle for equal rights. It's a fact we can't afford to overlook, and the film is an important reminder of that.
Anita: Speaking Truth to Power
Presented by RI NOW, The National Coalition of 100 Black Women –RI Chapter, and the PVD Lady Project
Thursday, August 20
6:30pm (Doors at 6:00pm)
Cable Car Cinema & Café, Providence, RI
Suggested donation of $5 – $10
Anita Hill movie comes to Cable Car in Providence

,