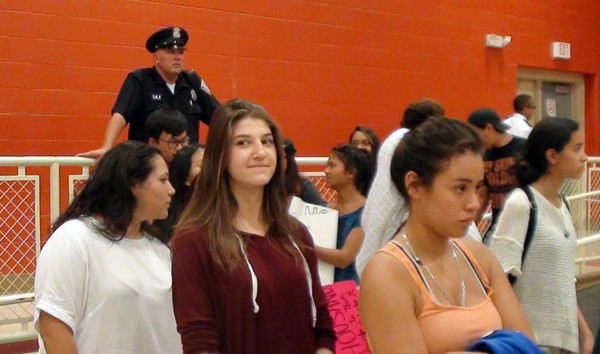 National Grid's plan to build a LNG liquefaction system at the Fields Point LNG Plant on Providence's South Side met with vocal opposition from several environmental, social and economic justice groups and highlighted the issue of racial injustice in environmental politics. Representatives from the Providence Youth Student Movement (PrYSM), the Providence Student Union (PSU) and the Environmental Justice League of Rhode Island (EJLRI) took control of the room at one point to conduct a peaceful speak out for the benefit of representatives from both National Grid and FERC (Federal Energy Regulatory Commission.)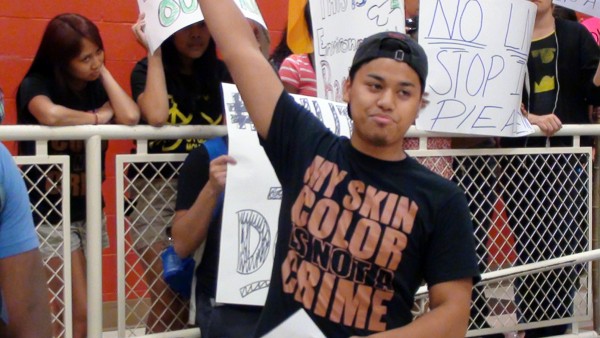 The event, as planned by National Grid, was unusual. Instead of a series of presentations delivered from a stage, the presentations were arranged around the room in the cafeteria of the Juanita Sanchez Educational Complex. At each stop you could learn more about National Grid's plans for installing a new plant for liquefying natural gas for storage in an existing tank. This had the effect of making each stop along the way a little more personal, as aspects of the project were explained in a one on one manner by National Grid reps.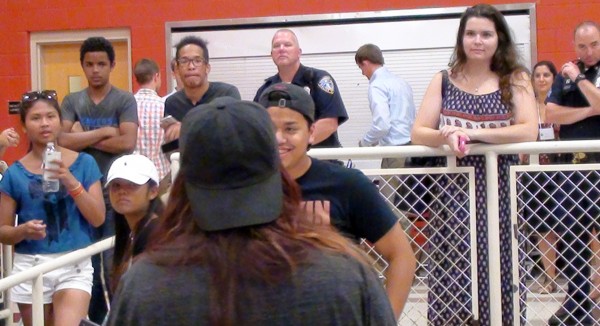 When I arrived, about an hour before the event started, I noticed the presence of five Providence police officers outside. Inside, the event was being watched over by two additional officers, one a lieutenant. There were some members of the community present, but most of those who attended seemed to be with the RI Sierra Club or Fossil Free Rhode Island and opposed to National Grid's plan. Members of these groups were content to engage the various National Grid and FERC reps in conversation.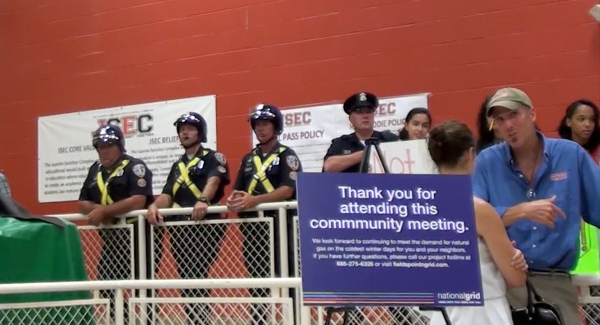 When the young people representing PrYSM, PSU and EJLRI entered the room, they were followed in by the police officers from outside, three of whom were wearing their motorcycle helmets.
"They're motorcycle officers," said the Lieutenant when I asked why seven police officers were needed, "That's not riot gear. I just called them in."
"So they were outside, directing traffic?" I asked.
"Yes," he replied, "Once we clear here, they'll go back to traffic duty."
"I know from other actions I've covered that these are all decent kids," I said.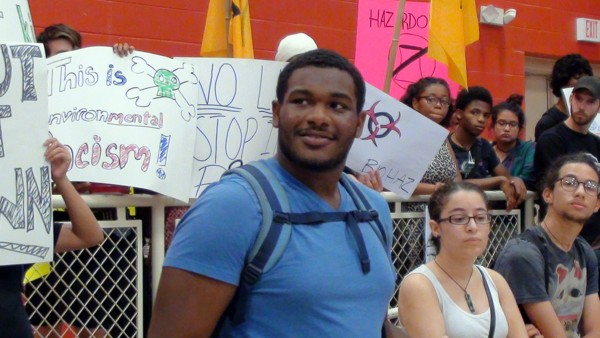 "We don't know that," said another officer, "We didn't know who was coming, or how many. We saw a bus pull up and then we saw all the bullhorns and the lieutenant asked, 'All right, who's in charge?' We just wanted to lay down some ground rules, some normal, by the law ground rules, and they just completely ignored us."
When I asked David Graves, media relations representative for National Grid about the number of police officers present, he said that initially, National Grid had asked for a two officer detail, but, "when those protesters were arrested this morning in Burrillville, the police department called us and we said that they should do what they feel is the right thing to do and assign a larger detail."
Graves was talking about activists from FANG (Fighting Against Natural Gas) chaining themselves to the gate at the Spectra Energy Compressor Station. "I don't think these people are associated with that group," added Graves.
Still, it was hard not to see the sudden explosion of police on the scene occurring precisely when people of color arrived as anything other than an expression of the kind of institutionalized environmental and economic racism that the groups were protesting. For a primer on environmental racism, you could a lot worse than watching Jesus Holguin below.
The appearance of racialized policing was heightened when the activists from PrYSM, PSU and EJLRI left the room and all seven police officers followed them outside, leaving no police officers in the room. I note here that the two men arrested in Burrilville were white and middle-aged, like the people left in the room without police officers, not young people of color, who conducted themselves fully within the law and left the room in peace. One of the two men arrested in Burrillville, Dr. Curtis Nordgaard, commented on the treatment he experienced as he made his first foray through the criminal justice system, after being released from District Court on personal recognizance earlier the same day. "Part of why we can do this," said Nordgaard, "is because of our privileged status."
National Grid's rep David Graves disagreed with much of what the various protesters said during their speak-out, but he knew the protesters weren't trouble. "These kids are wonderful," he said.
As the fight against environmental racism and for a clean energy future intensifies in the years to come, we should expect large corporations such as National Grid to increasingly rely on the government to use the power of the police to intimidate opposition. Billions of dollars are ready to be spent to prevent the transition to a clean energy future, and the billionaires in control of that money will not let go without a fight. As Dr. Noel Healy said, "There is no fixable flaw in fossil fuel industry business plan. We are asking a company to go out of business."
Environmental racism and the Fields Point LNG Plant

,