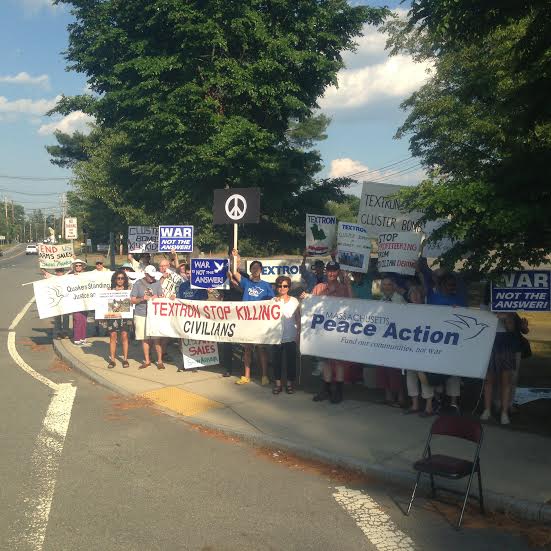 The protests against Textron cluster bombs are spreading from Rhode Island to Massachusetts. On Wednesday, Massachusetts Peace Action held a protest at Textron Systems, a subsidiary of Providence-based Textron in Wilmington, Mass., that was attended by more than 40 people.
"This was inspired by the Providence protests," said Cole Harrison, executive director of Mass Peace Action, as activists lined the street outside the division of Textron that makes the controversial cluster bombs the Providence-based conglomerate sells to Saudi Arabia and other nations through the US military.
Textron's cluster bombs became a cause celebre earlier this year after Human Rights Watch produced evidence that Saudi Arabia used cluster bombs in civilian areas of Yemen. Mass Peace Action planned its action to coincide with recent attempts by Democrats in Congress to ban cluster bombs sales to Saudi Arabia.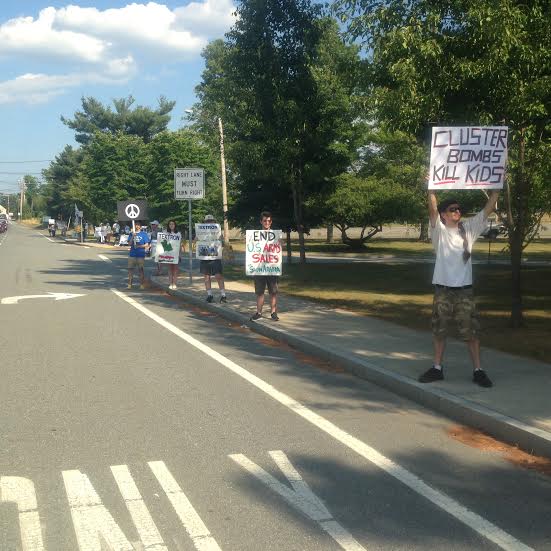 "We realized it was an activist issue in Congress," Harrison said. "We hope to help turn the tide on this. We don't think it's an issue that people understand very well."
This was the first action Mass Peace Action has held at Textron Systems. But it won't be the last, said Paul Shannon of Summerville, Mass. "Our plan is to come back," he said. "What we might do is start in town and hand out leaflets to people and then have a march. This is really important to get something off the ground here."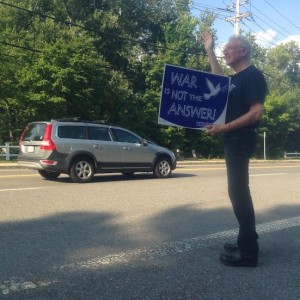 The action attracted older activists, such as Shannon and Harrison, but also millennials like Matthew Hahm, a Boston College student originally from Seattle.
"I don't agree with what Textron is doing, selling weapons and profiteering off of that," he said. "They are complicit in Saudi Arabia war crimes, essentially. It's pretty terrible stuff. Not enough young people care about peace because it seems far off and removed, but if more young people begin to care…"
While this was the first Textron protest for Mass. Peace Action, there have been a different kind of action every month outside Textron Systems for years. John Bach, a Quaker chaplain from Cambridge, has held "silent meeting for worship" once a month there for six and a half years.
"It's not a politicization of our spirituality," he said. "It's bringing our spirituality to a place that is very dark and needs light."
He said there are between 12 to 18 people who attend. "We circle up right around the sign and we worship in silence," he said. "It's called a gathered meeting. The actual worship is creating the time and the space for what we call the spirit, the small still voice, the divine light, the spark of life – whatever it is – to be spoken through us."
Bach, who spent two years in prison for refusing to be drafted into the Vietnam war, called cluster bombs "particularly gruesome, they are loathsome, they are uncivilized and according to any just conduct of war, which I do not subscribe to because I am a pacifist, you do not do something that kills as many civilians [as enemy combatants]."
Quoting what he called a popular saying from the 1960's, Bach said, "When they come for the innocent without having to cross over your body then cursed be your religion and your life."
He added, "The kids in Yemen are the innocent, clearly."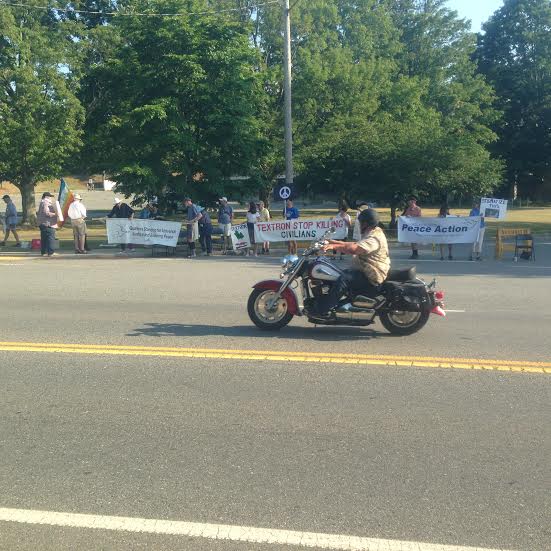 Anti-cluster bomb Textron protests spread to Massachusetts

,