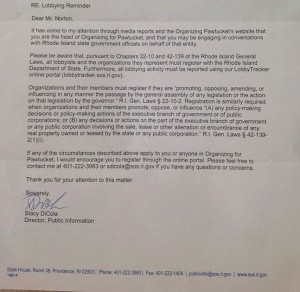 On July 7, Stacy DiCola, director of public information at the Secretary of State's office, sent a rather ominous-sounding letter to David Norton, one of the lead organizers of the grassroots opposition to the proposed state-financing of a baseball stadium for the PawSox, informing him that he should be certain to register himself as a lobbyist.  This is certainly problematic and half-brained for a variety of reasons.
In Ms. DiCola's letter to Norton, she wrote the following:
Please be aware that, pursuant to Chapters 22-10 and 42-139 of the Rhode Island General Laws, all lobbyists and organizations they represent must register with the Rhode Island Department of State. Furthermore, all lobbying activity must be reported using our LobbyTracker online portal (lobbytracker.sos.ri.gov).

Organizations and their members must register if they are "promoting, opposing, ammending, or influencing in any manner the passage by the general assembly [sic] of any legislation or the action on that legislation by the governor." RI Gen. Laws § 22-10-2. Registration is similarly required when organizations and their members promote, oppose, or influence "(A) any policy-making decisions or policy-making actions of the executive branch of government or of public corporations; or (B) any decisions or actions on the part of the executive branch of government or any public corporation involving the sale, lease, or other alienation or encumbrance of any real property owned or leased by the state or any public corporation." RI Gen. Laws § 42-139-1(1)(i).
First, while Mr. Norton has named his group Organizing for Pawtucket, he actually does not fit the definition of a lobbyist.  According to state law, the term lobbyist denotes
[A]ny person who engages in lobbying as the appointed representative of another person. A person is "appointed" by another if he or she receives compensation for lobbying or pursuant to a mutual understanding or agreement engages in lobbying. "Compensation" means any remuneration received or to be received for services rendered as a lobbyist, whether in the form of a fee, salary, forbearance, forgiveness, reimbursement for expenses or any other form or recompense, and any combination thereof. Where lobbying is incidental to a person's regular employment, his or her compensation for lobbying shall be reported as such and the lobbyist shall record the dollar amount of that portion of his or her compensation that is attributed to the time spent pursuing lobbying activities. In such instances, it shall not be necessary to disclose one's total salary or the percentage of one's time spent on lobbying. The lobbyist shall be required to disclose only his or her best good faith estimate of the dollar amount which corresponds to the portion of his or her time spent on lobbying activities.
Person means an individual, firm, business, corporation, association, partnership, or other group.
In the case of Mr. Norton, his efforts have been self-financed and driven by passion, not corporate dollars.
Second, while PawSox owner Larry Lucchino has registered as a lobbyist, his spokesman Dr. Charles Steinberg, as well as his various handlers and assistants, are not registered lobbyists.  In all likelihood, Lucchino may claim that his registration with the Department of State is meant as an umbrella to cover his workers also, something Secretary of State Nellie Gorbea may allow to pass because the various owners are also major donors to the Democratic Party.  But the hypocrisy is still obvious.
Third, one is forced to wonder based on these developments just what is going through the mind of Gina Raimondo if this is being allowed to fly.  On June 3, Raimondo's office told WPRI News that they had received a 98% negative reaction from constituents.  Activists in this issue have noted this and see it as a signal from the Governor.  In terms of political ideology, there is much to discuss, but it terms of political strategy, she is obviously no fool.  This issue may prove to be one of her first major tests in office and she cannot afford to drive away that many votes, especially if she intends to make a bid for either a second term (probably) or an office in Washington DC (definitely).  Speaker Mattiello has no higher office to gain, he has alienated a large swathe of Democrats with his policy moves and statements that refute the basic planks of the National Democratic Party platform, such as choice, gun control, and the social safety net.  Raimondo is a different story and knows she is on thin ice, she had no electoral majority, she came to office with no mandate, and people voted against her by casting their ballot for Bob Healey, whereas Allan Fung was basically a catered offering to the die-hard Republicans.
It remains to be seen if such a similar epistle will be dispatched to the PawSox lobby.