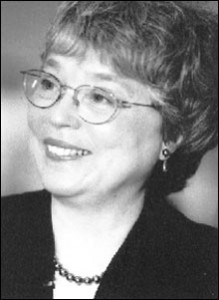 No one connotes Rhode Island quite like Arlene Violet. She's got the full package: the accent, the politics and the resume. She's been a nun, a lawyer, a politician and, as a result, now she's a political pundit. Violet is so Rhode Island she even wrote a musical about the mob.
And here's another thing that makes Arlene Violet pretty typical of the Ocean State: she doesn't seem to have a strong understanding about the underlying issues causing the political problems in public education.
Here's what she wrote about Deborah Gist in last week's Valley Breeze: "Disingenuous arguments about how she 'disses' educators and only has a one trick pony for evaluation of students' achievements and teacher competencies failed to derail her."
On Newsmakers she followed this up by adding:
"It's just a systemic resistance, for example for teacher evaluations. After I wrote a column in supporting of your reappointment I got my usual feedback when I support you, and they talked about the Rhode Island model teacher evaluation and support system addition 2 is 100 pages written by someone who has never spent a day in the classroom…"
However, there are actual issues with the new evaluation system that incentivize, rather than discourages, the dreaded status quo (that Violet herself rails against). Specifically, that the system being used to evaluate teachers inspires mediocrity. Here's how an actual educator at the now-famous teacher rally in Cranston very succinctly summed up the real problem with the new teacher evaluation system:
"Less rigor of task or target set to low teacher becomes highly effective; rigorous task and target and the teacher is scored effective and developing. The rating has little to do with the quality of the teaching and everything to do with the subjective development and rating of the task."

This is why holding someone accountable is only as good as the metric being used. But this didn't stop Arlene from pretty much ignoring any criticism at all and skipping right over to educators being lazy. "First of all I'd like you to respond to that criticism, but putting that aside," she asked Gist, "do you feel that anyone will ever accept teacher evaluations or is this just 'don't bother me?'"
She may as well have asked if teachers beat their spouses (the most famous example of a hard-to-answer leading question in journalism)! WPRI had no counterbalance to Violet's support for Gist; the panel consisted of two impartial reporters and Violet, who says on the show that she often supports Gist.
But Gist, to her credit, didn't take the bait: "They [teachers] want to make sure the process is fair, that the process is high quality and they want to be held accountable in a way that is appropriate and fair, not that they don't want it to happen at all, that they want to make sure the process is done well."