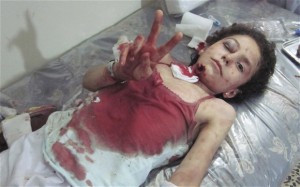 Please call the members of the RI Congressional delegation and tell them to vote against authorizing military action against Syria, and also ask them to increase humanitarian aid. Heck, if you want, tell them you won't vote for them if they authorize the use of force in Syria.
Senator Jack Reed: 401-943-3100, http://www.reed.senate.gov
Senator Sheldon Whitehouse: 401-453-5294, http://www.whitehouse.senate.gov
Representative James Langevin: 401-732-9400, http://www.house.gov/langevin
Representative David Cicilline: 401-729-5600, http://www.cicilline.house.gov
Others have written on this blog about why attacking Syria is a bad idea. Please read the posts by Tom Sgouros, Bob Plain and others.
Nothing good will come of the US attacking Syria. Telling Syria the use of horrific weapons of war is wrong by flouting international law and illegally bombing them is not going to stop Assad and other evil doers from doing their evil; it will only make us look hypocritical and more like them.
It is quite likely that instead the situation will be made much worse. Iran could retaliate, perhaps against Israel. The Shiite-Sunni sectarian divide could grow worse with increased violence in Iraq and other countries. Russia and China may be provoked into openly supporting Assad's regime. And the US would further enflame anger at our violence and unilateral military operations. As Bob Plain asks in his post, why is it ok for the USA to take military action without UN approval, and to bomb countries when we don't like what they do? Imagine if, in response to our illegal bombing of Syria, some other nation bombed us in order to teach us a lesson?
And finally, what if Assad uses chemical weapons again? After striking once, we'd almost have to attack again, and this would draw the US into a war.
A few good places to look for interesting information on the Syrian conflict:
The Nation Magazine has some good reporting on the isse.
Frontline, on PBS, has several powerful documentary reports worth viewing.
Senator Bernie Sanders has spoken passionately on this, as have others (both Republican and Democrat).
And the Green Party , led by its 2012 Presidential candidate Jill Stein, have spoken against bombing Syria.