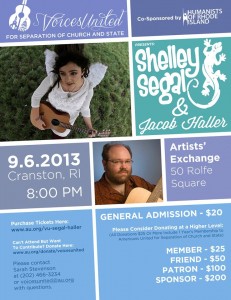 Tonight at the Artist's Exchange on 50 Rolfe square in Cranston, Rhode Island Australian singer/songwriter Shelley Segal will be appearing with local legend Jacob Haller in a concert/fundraiser for Americans United for Separation of Church and State,  "a nonpartisan organization dedicated to preserving church-state separation to ensure religious freedom for all Americans."
That sounds like a perfect fit for Rhode Island, the state that invented church-state separation.
Check out Shelley in the video below, then come see her in person. You can purchase pictures in advance at this link.
This event is co-sponsored by the Humanists of Rhode Island.