"Without a doubt, there is no better example than Steve Ahlquist of an atheist on a crusade."

-Travis Rawley, Catholic Extremist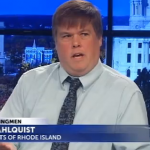 Two different conservative, Catholic bloggers have taken me to task this week for my public advocacy of secularism, Humanism and atheism. On Channel 10 News Conference Justin Katz referred to me as an "atheist extremist" and in the same weekend Travis Rawley called me an "atheist agitator" and asked, "Why, again, is Steven Ahlquist even speaking?"
When one talks about extremism, whether in a religious or political context, one is usually referencing the subject's proclivity towards resorting to violence. Muslim extremists might fly planes into buildings. We use the modifier "extremist" to differentiate these people from the vast majority of Muslims who are peaceful, decent people. Christian extremists might shoot abortion doctors, and again, we use the modifier to differentiate these criminals from the vast majority of decent, peaceful Christians.
What exactly do "atheist extremists" do that differentiates them from average, peaceful atheists? Apparently they writes for RI Future, and espouse unpopular opinions about religion and religious privilege in our state. Sometimes they write letters or editorials to the Providence Journal, or go on television to defend and promote their views.
That's it.
No body count and no death and destruction result from the actions of these atheist "extremists." Just the peaceful and not so easily ignored voice of a growing number people who are pointing out that when it comes to religion and supernatural belief, "the emperor wears no clothes."
In Rhode Island, conservative religious voices are extremely active and almost impossible to escape. They literally shook the dome of the State House in their fervor to oppose marriage equality this year, on two different occasions. The Catholic Church maintains at least one lobbyist to the General Assembly, a Catholic priest who also sometimes leads our legislators in prayer. With 113 seats in the General assembly, there is not one legislator that publicly identifies as atheist or Humanist. On talk radio avowed Catholics John DePetro and Dan Yorke entertain Bishop Thomas Tobin as a frequent guest. Tobin is the local leader of a church that claims 44% of Rhode Island's population as members. A free news-monthly, Good News Today, claims a circulation of 16,000 and there are two entire channels on Cable Access devoted to religious broadcasting.
Given the multitude of voices extolling the putative virtues of faith, supernaturalism and religion, why do so many conservative voices worry about the comparatively few voices, like mine, that advocate for reason, naturalism and secularism? Some think that religious believers are afraid of the truth, that their faith is weaker than they pretend it is and that plagued by doubts, religious believers secretly worry that atheists might just be right, and that there really is no God.
I disagree with that assessment. Right now, the only real critique of conservative religious values and their corrosive effect on our political discourse is coming from progressive atheists, Humanists and liberal religionists who are unafraid to speak up. The critiques generated by progressive atheists do not speak so much to policy as they do to the very foundations of conservative religious philosophies, rejecting outright such theological ideas as original sin and human depravity, doctrines of salvation and and the existence of natural law as a foundation for our ethics.
Rejection of these religious ideas have implications for our society when it comes to dealing with poverty, crime, punishment versus rehabilitation, birth control, marriage rights, public schools, medical care and virtually any other politically contested issue, including all human rights.
If, as conservative bloggers and commenters maintain, I am indeed an extremist and agitator, then so is every person in Rhode Island who has ever written a blog post, appeared on radio or television, written a letter to the editor or commented on the web about any religious or political issue. If we really want words to have meaning and value, we should use them carefully and avoid such loaded terminology.
Atheist extremist?

,