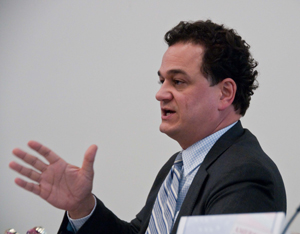 It's not a great week to be Gordon Fox. As his leadership team is literally crumbling around him, his political opponent Mark Binder is stepping up his campaign.
Problems with Fox's leadership team have been mounting for weeks now. Two of the most conservative members of the team lost in primaries: Peter Petrarca and Jon Brien. And, John McCauley, who recently pleaded guilty to two tax-related felonies, isn't running for reelection.
Then yesterday, Whip Patrick O'Neil resigned.
In a letter to Fox, O'Neil said he was stepping down, in part, because, "there are glaring signs that the leadership team is neither working together to bring about real change not has a clear plan for addressing the issues this state is facing."
O'Neil, by the way, was the highest ranking legislator to support tax equity legislation last session – and he'd love to be the next Speaker.
All this as former friend and ally Jeff Britt is now running Binder's campaign.
Binder, a frequent RI Future contributor, has a piece in the ProJo today which makes a pretty pointed accusation of Fox: "Again and again, the speaker uses his power to rule by fiat and whim."
He cites Fox's inside information about the 38 Studios deal, the strange and silent death of the popular payday loan bill and the surprise of the budget bill this year: consolidating the board that oversees elementary and secondary education with the one that oversees higher education.
About that last example, Binder writes:
Despite a promise to present legislation in an "orderly" manner to help the house "fully vet and consider the information" at the close of the session, Gordon Fox and his Band of Merry Men rammed through the mash-up of the Board of Governors for Higher Education and the Board of Regents for Elementary and Secondary Education into a single committee. No public discussion, no debate about its merits or potential problems. Just put it in the budget and vote for it.
And Binder says he will turn over evidence to the State Police showing that House spokesman Larry Berman is illegally serving as Fox's campaign spokesman as well. Some of Binder's evidence that Berman is doing work for Fox's campaign includes reports from this website, as well as many other media reports.
Every political reporter in Rhode Island knows Berman, technically the spokesperson for the Speaker's office, is also the de facto spokesman for Fox's campaign. I'm not even sure if Fox has an official campaign spokesperson outside of Berman.  If David Cicilline did as much, who by the way has a separate campaign spokesperson from his congressional staff, you'd likely see many more pixels devoted to it.
Fox did manage to eek out some positive press this week too. At the ProJo's Publick Occurrences forum last night, Alix and Ani CEO Giovanni Feroce made an off-color comment not unlike Mitt Romney's 47 percent comment. Here's the ProJo's coverage of the exchange:
Just as the two-hour event started winding down, things heated up between Giovanni Feroce, CEO of jewelry company Alex and Ani, and House Speaker Gordon Fox. Feroce, who had complained earlier that the nation "has created a work force that doesn't know how to work," went even further in response to a question from the audience, saying, "I don't understand when it became fashionable to not work."

Fox responded that 59,000 Rhode Islanders aren't out of work because they're "lazy and shiftless" but rather because the state has failed to connect them to jobs.

"If we do a better job connecting them," said Fox, "we will create the best products in the world."