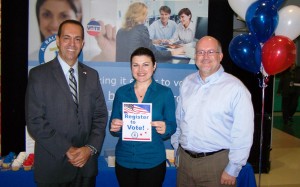 Planning on voting on Election Day? Rhode Islanders have until this Sunday to register to vote. Sunday's deadline applies voters who have moved or changed their name since the last time they voted as well as to new voters. State law requires current voters to re-register under their new name or from their new address in order to be eligible to vote again.
Although the deadline falls on a Sunday, our Elections Division at 148 West River St., Providence, will be open from 8:30 a.m. to 4 p.m. for last-minute registrations. In addition, every city and town has also made local arrangements.
Not sure whether your voter registation is up to date. Use our Voter Information Center to check.
We are also teaming up with Cardi's Furniture to give Rhode Islanders another last-minute option. We will set up shop at Cardi's West Warwick store on Rt. 2 Sunday from 11 a.m. to 1 p.m. to register and re-register voters.
In order to register and vote on Election Day, you must be at least 18 years old by Nov. 6, a resident of Rhode Island and a U.S. citizen.
Rhode Islanders who cannot register in person by Sunday can download a voter registration form and mail the original, signed form to their local Board of Canvassers as long as it is postmarked by the postal service no later than Oct. 7.