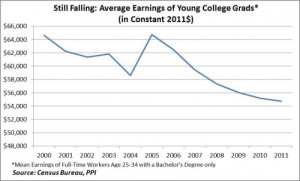 Evidence shows that real wages for college grads fell in 2011. More: real wages for college grads are down from 2000, and real wages for college grads are down from 2004, the trough of the Bush recession. These wages did go up–sharply–in 2005, and then began a long, not-so-slow slide from which they have not begun to recover.

And yes, the link is to the Progressive Policy Institute, but the data is drawn from the Census Bureau's annual Income, Poverty, and Health Care report for 2012 that was published recently. So this is standard gov't data.  As the article makes clear, this is very significant information. It seriously cripples the argument that people can lift themselves up by getting a college degree. Or that income inequality is simply the premium paid for education.
So the graduate enters the real world to find that a) jobs are very hard to find; b) that those lucky enough to get a job are making less than they expected; and c) they have a mountain of debt to pay off. This latter was exacerbated by policy changes in the Bush era, which have been, thankfully, addressed by Obama.
But, no problem. This is all part of the Grand Plan to make sure that a) levels of income inequality continue to rise; and b) that these differences become stratified into place, resulting into a permanent caste system. Yes, this is the goal. Let the rich get richer, and let everyone else go to hell in a handbasket. That is what the corporate overlords want. Is this bordering on tinfoil-hat paranoia? Perhaps, at first glance, but let's look at the evidence.
Income inequality shrank significantly between 1948 & 1973. Why? Because of deliberate government actions that fostered the downward redistribution of wealth. Unions were institutionalized, providing labor with a powerful voice to protect workers' rights. The steady, significant, upward trend of real middle-class wages was the result of deliberate policy.
Another deliberate policy that fostered income redistribution was very high tax rates. Even after Reagan's 1981 tax cuts, the top tax rate 'fell' to 50%. Prior, it was in the 70s, and it only 'fell' to 77% after being cut in 1964. I say we do what the GOP wants and emulate Reagan. Let's put that 50% tax rate back in place. If it was good enough to St Ronnie, then it's good enough for me, right?
And let's make one thing clear: today's "corporate titans" are not the steely-eyed heroes of a bad Ayn Rand novel. These are not entrepreneurs. They are bureaucrats. The guys sitting in the chairs at Citibank or GM or 3M or Exxon did not build their company from scratch. Yes, you have (or had) your occasional Steve Jobs and Bill Gates, companies like FedEx that grew into market behemoths, but they are, far and away, the exception and not the rule. The family-owned, family run corporate giants like Standard Oil or Dagny Talbert's (Atlas Shrugged; yes, I read it) railroad barely exists today.
The point is, when a public corporation makes money, it can choose what to do with it. The corporation can return it to the owners–the shareholders–in the form of dividends. This was the traditional thing to do. Until sometime in the 1990s, buying stock in the expectation of the price going up so you could sell it was the definition of 'speculation.' Rather, one bought stock to hold it, so you could collect the 5% annual dividend. In some ways, IMO, the worst thing about the dot-com boom was the idea that dividends were 'quaint', and something only old-fogey companies did. Now, dividends of 2% are considered generous, and perhaps foolish. Apple, with all its money, has never paid a dividend.
Or, if a corporation chooses not to give the money to the real owners, another choice is to re-invest the money in the company by building another plant, or buying new, improved machinery. This is not happening. Business investment in this country is at its lowest level in decades. Yes, some companies are spending the money in other countries by outsourcing, but that doesn't do a college grad in this country much good, does it?
So the corp is not returning the money to its real owners, the shareholders; nor is it re-investing the money in the company. How about higher wages?
Despite enormous productivity gains, wages–which is where we came in–are stagnant at best, falling at worst. In the period 1948-1973, there was a rough equivalency between productivity increases and wage increases. If an improved process makes the product cheaper, the profit margin increases. In the time to 1973, this extra profit was shared more or less equally by everyone in the company, workers and management alike. But, starting somewhere around 1980, this trend stopped. Oh, productivity has increased, dramatically at times, but wages have remained stagnant.
IOW, it's gotten cheaper to do things, but that money is not being distributed to those who actually do the work. It's being kept by management.
We are living in a time when corporate profits are at record high levels, and the percent of profits going to labor is at record lows for the post-Depression period. Coincidence? No.
Why is this happening? Here's where my tinfoil-hat conspiracy theory comes in: because this is the plan. Those fortunate enough to climb into the executive level of a corporation they did not build, have decided that they're going to keep the extra money themselves. So, the wages for college grads falls, because it can. Why has the GOP fought so relentlessly to stymie every pro-jobs proposal brought before it? To maintain the 8-10% unemployment rate. Why do they want to maintain this high rate? Because high unemployment puts downward pressure on wages. When someone asks for a raise, the corporate response is "you're lucky to have a job." Yes, it's true, and that's exactly my point.
I get a lot of flack claiming that I'm anti-business, or a pro-union shill, or an alarmist, or lots of other things. And yet, somehow, the actual evidence seems to be on my side. Oh, sure, you can nitpick a few of these points where I've overgeneralized and then shout "FAIL" (it's happened), but I have yet to see a convincing, fact-based contrary argument.
Of course, one prime target is my conspiracy theory, that there is a plan to build in legal support for income inequality. Look, corporate management is a cohesive group. These guys–and it's 90% men–sit on the boards of each others' companies. They hang out together in the Hamptons on weekends. They ski in Aspen. The cabal is not nearly as incestuous as the power circle here in RI, but it's on course for that. The first thing that happens when you get power is you try to make sure you keep power. It's damn hard to get to the top of the pyramid, so, when you do, you bloody well try to stay there.
Now, if you're Mitt Romney, and you can borrow untold amounts from your parents, and you've been sent to the best schools where you met the Next Generation of Leaders, getting there is a whole lot easier. He claims he got nothing, but that's just flipping ridiculous. I saw a post showing a copy of a magazine article from like 1967 that listed him among the 25 most eligible bachelors in the nation. Yeah, he had to work really hard. He and GW Bush could call up daddy's friends and ask for help, for investment money, etc. Real hard. And did you see how Mitt's original contract at Bain Capital guaranteed him a place in the parent company should the venture fail? A real risk-taker.
Even Adam Smith recognized the collusion of management: "We rarely hear, it has been said, of the combinations of masters, though frequently of those of workmen. But whoever imagines, upon this account, that masters rarely combine, is as ignorant of the world as of the subject." Wealth of Nations, Part I, Ch VIII
So, yes, the people in power have a vested interest in maintaining their power. And they have the ability to shape circumstances–to some degree–to help them maintain their power. So, conspiracy? That might be a stretch. A plan, perhaps not fully articulated as such? Absolutely.