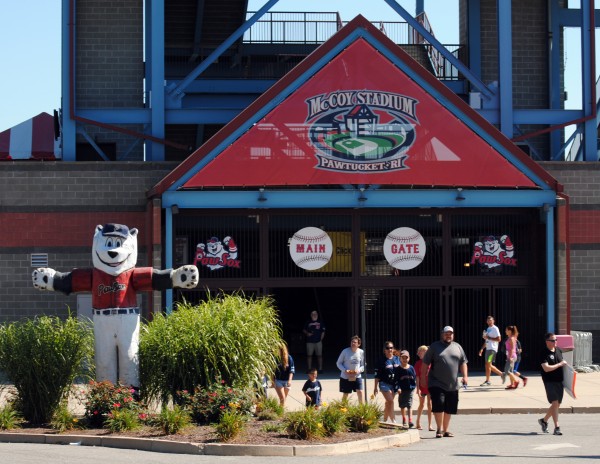 While they never really left Pawtucket, to many of us it sure seemed like they did. Last year was a difficult year for the community. We learned about the Pawtucket Red Sox seeking another home only to abandon McCoy Stadium and Pawtucket. We were told there was no use discussing anything – the Pawtucket Red Sox were leaving.
While the neighborhoods surrounding McCoy are not glamorous, they are authentic places and these are the types of stadiums that helped baseball grow into being the sport it is today. Baseball grew to the chosen American pastime in the neighborhoods across America, just like Pawtucket. Our Textile Mill Leagues here in Blackstone Valley provided a work diversion, and entertainment with their baseball teams and that helped the professional teams grow. From these neighborhood fields Rhode Island sent players like Nap LaJoie to the National Baseball Hall of Fame. The roots of great baseball came from McCoy. These roots are what we need to build upon at McCoy.
The announcement of the move was not well received. The community was outraged, upset and created an organized resistance to the team moving. Rallies were held and the fans spoke up and out. Pawtucket's Mayor, Don Grebien, took on the "up-hill battle" of fighting to keep the team in Pawtucket. The team's effort to move has drastically changed. For the near future, the team is staying.
Last week, at a lunch at McCoy's Clubhouse, Pawtucket Red Sox Chairman Larry Lucchino, Team President Dr. Charles Steinberg and General Manager Dan Rea addressed the community in a way that went beyond professional. It was heartfelt, meaningful and seemed to impact positively everyone in the room.   The late owner Ben Mondor and then President Mike Tamburro, now vice chairman, built the team with an amazing spirit that was not just corporate – it was heartfelt and community-driven. We have that spirit back at McCoy Stadium.
Our hearts were broken when the new owners fought so hard to leave Pawtucket. The community was not without blame. We could have done more to help create the "Destination Ballpark" they seek and deserve. It can be done in Pawtucket. We have time on our side and work to do. Economic Feasibility and Design Site Feasibility studies have to be completed.
The new team leadership, and the administrative support they have assembled, is working hard to regain the trust, friendship and support developed by the late Ben Mondor.
The community needs to support the work of our Pawtucket city officials and the new Pawtucket Red Sox ownership, if we are to keep the Pawtucket Red Sox at McCoy. Let's begin to grow back the attendance, the business support and the high community morale the team gave us. Go Pawtucket Red Sox! Welcome to Pawtucket and Rhode Island Mr. Lucchino! This will be a great year.