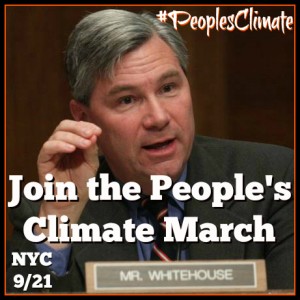 It was a beautiful day yesterday (unless you're a die-hard Pats fan), not the kind of day you want to spend inside. Nevertheless, I found myself in a darkened classroom at Brown University in order to watch "Disruption," a documentary that dropped online yesterday and which is designed to drive people into the streets to demand action on the climate. The film gave me goosebumps several times, both anticipating the impending People's Climate March in NYC on September 21st and reminiscing about the giant Forward on Climate Rally in DC last February. It runs a little over 50 minutes, and it makes a compelling case for people to show up in New York. [stream it here]
Did I mention you can get a Climate March bus ticket roundtrip for as little as $15 and the deadline is Wednesday? CLICK HERE FOR THE TICKET PAGE  (If it says the tickets are sold out, please join the waiting list. More buses are being arranged)
The People's Climate March is expected to draw more than 200,000 people, all to make the statement that global action must be undertaken to drastically reduce carbon emissions. The film builds excitement for the march by interlacing behind the scenes clips of the amazing organizing work being done to make it all run smoothly with interviews of renowned climate activists. The organizers' perspective on the march is reinforced by periodically counting down the days until September 21st, beginning 100 days out and ending with 14 to go.
One of the renowned activists who makes an appearance in "Disruption" is our own Senator Whitehouse. The Senator held his annual Energy and Environmental Leaders day, and we were able to pull him aside for a moment to get an exclusive video interview. Among other things we asked him why it's important to go down to New York City. This is what he had to say:
Even if you know you can't make it to the People's Climate March and disregard the Senator's invitation, I recommend watching the movie to get a sense of the scale of the movement we need to create in the coming decades in order to save civilization as we have known it. It requires unprecedented action, and it's made more difficult by human psychology, which isn't biologically designed to grapple with problems that emerge and must be resolved over generations. This challenge is acknowledged in "Disruption." The theory in the film and behind the march itself is to get enough people onto the streets to reach a cultural tipping point, to find a place in our collective consciousness where we can plan for the long term and act accordingly.
We are closer to this tipping point than we realize, and each new pair of boots on the ground brings us a step closer. In New York and beyond, if we want to disrupt business as usual, we must be the disruption.