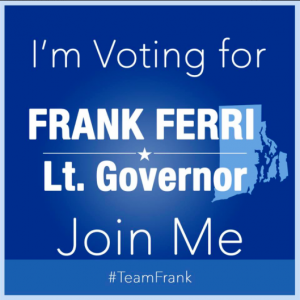 The lt. governor's race is the only Democratic primary for statewide office this year that didn't split the progressive left. When it comes to that race, longtime Warwick Rep. and local bowling alley owner Frank Ferri is the obvious progressive choice.
Ferri is best known for championing marriage equality. He re-married his longtime spouse Tony Caparco after leading the legislature to approve gay marriage. He's also led on the fight to reform payday loans and and rebuilding Rhode Island's economy from the bottom up. He's a stalwart supporter of our healthcare exchange, and maintaining it as a model for the rest of the nation.
But don't take my word for it. Here are some of the endorsement emails for Ferri that landed in my inbox lately.
He has the endorsement of current Lt. Governor Elizabeth Roberts:
Thank you so much for the support that you have given me over the eight years I have served as Lieutenant Governor, and before that as State Senator. As I prepare to leave office, I am pleased to share that I am supporting Frank Ferri for Lieutenant Governor.

Frank is the best candidate in this race to carry on my commitment to innovative health care reforms. I know that he will use his small business experience to support smart economic development. He is our best hope to use the power of the office to help enact serious ethics reforms. I ask you to vote for Frank in the Democratic Primary on September 9th.

Frank has worked all his life. He started when he was ten years old at Modern Ice Cream, the ice cream store owned by his grandparents on Federal Hill. Today, his family and he own and operate a Rhode Island small business that they have run for 30 years.

As a small business owner, Frank is the right person to take over as chair of the Lieutenant Governor's Small Business Advocacy Council. As Frank says, he speaks the language of business and the language of government – and he can build bridges between them.

When Frank was first elected as State Representative, he made a commitment to focus on achieving the kinds of health care reforms that I held in preparation for Affordable Care Act preparation. Even before he was sworn in, he started attending a series of health care forums that I held in preparation for the implementation of the Affordable Care Act.

Thanks to the hard work of so many in our community, Rhode Island has created one of the best health care exchanges in the country. I trust that Frank will keep the office's focus on ensuring that HealthSource RI continues to thrive.

Finally, we know that too often, Rhode Island sees our elected officials charged with abusing their offices. Frank shares my concern about what this does to our economic prospects — because people only want to do business where they have trust in government.

Frank has released a significant ethics plan, including a proposal to put a constitutional amendment on the ballot to give our Ethics Commission the power it needs to hold legislators accountable.
Former progressive Providence mayoral candidate Brett Smiley:
I have been busy campaigning alongside Jorge Elorza to make sure Providence can move forward, but there is also another candidate I hope you will support. I'm voting for Frank Ferri for Lieutenant Governor, and I encourage you to vote for him as well in the Democratic primary on Tuesday.

Frank is a friend and a colleague. He is a true progressive leader, endorsed by Planned Parenthood Votes! Rhode Island, RI NOW PAC, the Victory Fund, Clean Water Action, and the Sierra Club, among others. We know that Frank is 100% committed to our progressive values and that he will never waver.

Frank and his family have owned a small business for 30 years, and he brings this critical experience to his role in government. His business knowledge — not to mention his seven years in the General Assembly and his community activism for decades before that — makes him a great lawmaker and will make him a great Lieutenant Governor.

I'm voting Frank because of his top three issues:

Frank has a vision for going back to the basics of economic development by supporting the small businesses already here in Rhode Island with access to capital and creating an easier and more transparent state contracting system.
Frank is the only candidate in this race with the stated commitment to continue Lt. Governor Elizabeth Roberts' important health care advocacy and to support new health care reforms that increase quality while holding the line on costs. He'll make sure that HealthSource RI — one of the most successful health exchange in the country — grows and is able to negotiate even more significant changes in our healthcare system.
And like me, Frank is angry when the small number of unethical politicians harm Rhode Island's standing in the country and affect our ability to attract business. Frank's strong ethics plan will take on the insiders who won't play by the rules. And when he says he'll spearhead an effort to put a Constitutional Amendment on the ballot to give the Ethics Commission back its ability to hold unethical politicians accountable — without a Constitutional Convention — I know he'll do it.

Frank and I worked closely together on Rhode Island's successful Marriage Equality campaign. Time and again, I watched as people told us we couldn't make it happen, and I was proud to see Frank help prove them wrong.

When Frank says he'll do something, I know he will. So I know that he'll stand up for small business owners, continue to tackle the high cost of insurance, take on unethical political insiders, and be a strong, progressive Lieutenant Governor.
Marti Rosenberg, founder of the famed-but-now-defunct Ocean State Action:
I'm sitting in Frank's campaign office right now as people are making phone calls. His neighbor, Trish, is talking to voters about how she's known him for over 9 years, and she'd never considered doing this for anyone else. She knows how important these calls are, and she's willing to do what it takes to get Frank elected.

Besides Trish, we've got Terri, Joan, Ann, and Cait here too – and none of them have ever helped on a campaign either.

Trish and the rest of our team would like you to join them any day between now and Tuesday at 8:00 pm, when the polls close – to help Frank win.

As you can see, you don't need any special experience – you just need to admire Frank and have a commitment to electing him because he'll make the change we need in Rhode Island. We're looking for people to make phone calls, or to be a presence for Frank at the polls on Tuesday.

Our volunteer Cait has known Frank for 20 years. She just said it best: "Frank's a fresh new face in statewide politics, and a real hard worker. When he says he'll do something, he'll get it done."
Of course Ferri has the public support of progressive legislators from Sen. Josh Miller to Rep. Art Handy. My favorite, though, was the endorsement from his niece Margaux Morrisseau, who herself is running to replace Nick Kettle in the state Senate:
Some of you know that Frank and his husband Tony are my uncles. Yes, they are technically my "uncles-in-law" but I could not choose a better family to be a part of! We are as close as can be and I am so proud of all Uncle Frank and Uncle Tony have accomplished.

But even if Uncle Frank weren't related to me, I'd still be supporting him:

As a small business owner, Frank understands business and he understands government. We need someone with both of those insights to be able to carry out the kinds of economic development that will actually work to support the small businesses that are already here and to attract new businesses.

Frank is the only candidate in this race with the plans to carry out Lt. Governor Elizabeth Roberts' commitment to significant health care reforms to increase quality, but hold the line on costs. He'll make sure that the very successful HealthSource RI continues to thrive.

Frank gets angry when a few unethical politicians take the focus away from the majority who work hard for their constituents. He has released a strong ethics plan that includes reducing the influence of former elected officials on the legislative process and putting a Constitutional Amendment on the ballot to give the Ethics Commission back its ability to hold unethical politicians accountable.

I am sure you can see Uncle Frank has had a significant influence on me and my decision to run for State Senate. I would be honored to serve with him and work hand in hand to make RI a better place for all.

Please, join me this coming Tuesday to vote for Frank Ferri for Lieutenant Governor in the Democratic Primary. Feel free to email me for more information on my Uncle Frank or to find your polling place.