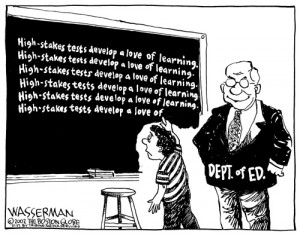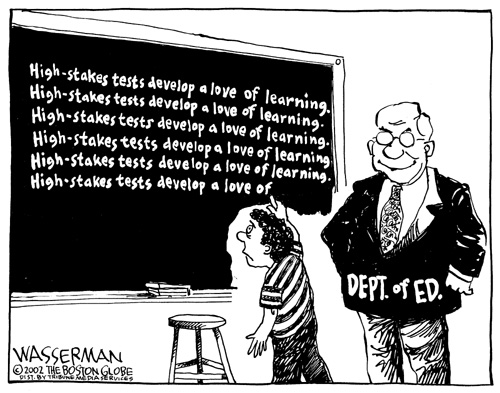 Do we really want to compare portions of China, Singapore and Russia with the United States in terms of how we educate young people? While these nations perform well on tests, they certainly aren't known for innovation. To be sure, there are many problems with our nation's educational system. Some of these include style, others come from a multitude of societal factors. Perhaps we should be spending a bit more time recognizing those factors rather than simply blaming kids and teachers. We probably should also quit arguing about the ups and downs of test results.
Cultural reform should precede educational reform as an American necessity. While the state of our school systems certainly needs addressing, the components of that scrutiny call some major concerns into play. Poverty, race, economic fairness, the use of technology, power, money, etc. all impact how kids are taught (as well as what they are taught).
What do we value? What do we need to do for our future generations? How do we treat each other? Are there ways that we can help others be successful in our culture? Before making sure that everyone dances to the beat of the same academic drum we might want to consider these questions and many more. Short–sighted solutions might lead some to do well on tests. What this means is open to conjecture. Whether or not this present mode of instruction leads to creativity, critical thinking and the skills necessary for the world can certainly be questioned.
A mantra of RIDE's has long been 'no excuses' when it comes to students not passing the NECAPs. The department believes that language barriers, poverty and learning disabilities should not be factored in as to why or why not a child struggles in school. What they miss here is the difference between an excuse and a factor. One seeks to absolve individuals, or a group, from taking responsibility, while the other considers obstacles that need to be addressed. Although I agree with RIDE's premise that all kids can achieve at a high level, ignoring the fact that not everyone begins from the same point is absurd. In addition, assuming that all students learn the same way is equally absurd.
Does anyone really believe that the Providence and Central Falls teachers are incompetent, or, do not care? Why then are schools in those districts threatened with closing and takeovers? Why are teachers in any district blamed for not having kids achieve on Standardized Tests when many young learners cannot understand the language, have disabilities or have not yet been taught the material?
Somehow I think that we can do better than this. Somehow I believe that we understand what fairness is. Educating our young people is such an important thing. It can open doors, lead to wonder and help create a lifelong desire to learn. It is a gift we can offer this and generations to come. It is not Rocket Science but done right can turn us all into stars.
Will we offer up excuses as to why an exciting, enriching and pertinent education is not offered to kids?  Or, will we create additional factors that will help all learners achieve a dynamic education? There is much to consider. But, consider this. Isn't it odd that the United States pays more to put someone in prison than support them in school? Isn't it also odd that we spend more on war than education? Perhaps we need to change our priorities.
On December 10th the Academy Foundation will hold its 3rd in a series of forums addressing the role standardized tests play in education. The Forum will be held at East Greenwich Town Hall and run from 6:30–8:30 pm. Whether you are for or against please come and participate. How we educate young people will have a significant impact on all of our lives for years to come.
Becoming a factor

,